How It Works
Pick-Your-Own - Lots of Fruit, Lots of Fun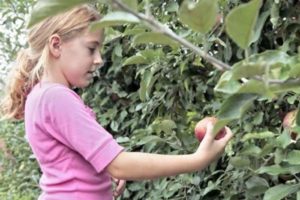 At last, an activity the whole family can do together that's actually fun! It provides exercise, lots of fresh air, and something to take home for your efforts.
So, come to Terhune Orchards and pick your own berries, apples, pumpkins and flowers!
Terhune Orchards starts harvesting with the first crop of asparagus in late April. In May, ripe strawberries are ready. Then June brings cherries (sweet and sour) and blueberries. In July, juicy blackberries are ripe. September is Apple season and October brings pumpkins - all available as pick-your-own.
Call the farm store at 609-924-2310 or visit Look at the Pick-Your-Own Schedule to check on availability--each season brings a slightly different timing.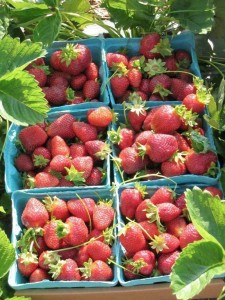 Strawberries
First fruit of the Pick-Your-Own season, welcome summer with juicy berries. You will quickly pick your baskets full.
Cherries
Cherry season goes by fast. If you wait until "next weekend" to pick cherries, you may be too late. We have sweet and tart varieties. And, in June, toward the end of the month, picking will be "ready, set, go," because the season is still "short and sweet - Gary Mount explains about cherry season.
Blueberries
Two acres of bushes loaded with blueberries. A special net keep the birds away from the sweet berries and leaves plenty for the pickers. The bushes are loaded with berries lasting from the end of June to early August.
Blackberries
If you love blackberries, Terhune Orchards is the place to go. When picking these berries, look for ones that slip easily off their stems and into your hand. We grow THORNLESS blackberries - makes these berries easier to pick. About three times the size of black raspberries, these high-quality blackberries ripen early July to mid-August.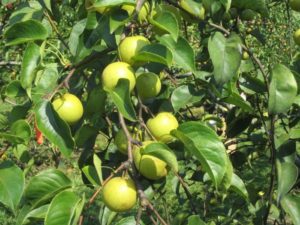 Apples
Fall and Apples go together at Terhune Orchards. For September and October, Terhune Orchards' pick-your-own farm on Van Kirk Road, just around the block form our home farm, is open everyday. The dwarf trees are tied onto a wire trellis and kept short so all the apples are easy to pick from the ground. No ladders or long poles are needed.  Our apples are juicy, crisp and delicious -- and plentiful too!! Apples at the Pick Your Own farm are sold by weight. You pay for what you pick.
No outside food, pets, coolers or alcohol is permitted.