Owned and operated by Pam and Gary Mount, and daughters Tannwen Mount and Reuwai Hanewald, Terhune Orchards Vineyard and Winery offers an exciting selection of award-winning red, white and fruit wines crafted from our own vineyards and orchards. Terhune Orchards is one of the few operating family farms in the Garden State to also have a winery and tasting room. Wine is sold in the winery, the farm store  and online.
The winery is in the open air setting of our 100-year-old historic apple orchard. Wine and live music events throughout the year are popular activities at Terhune Orchards.
Visitors also enjoy shopping in our farm store, walking along our farm trail and taking advantage of other activities, including Pick Your Own and farm festivals.
Our original tasting room was in a historic 150-year-old barn, which had once been home to livestock, hay and storage for wagons. As we expanded, our Wine Barn was built to house our state-of-the-art wine tanks, wine lab and bottling line. In cooler weather, the Wine Barn welcomes visitors for wine tastings and music events.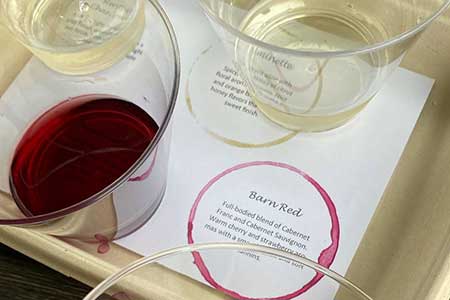 Enjoy wine by the glass, tasting flights, and wine slushies. Light fare including chips and salsa baskets and cheese plates is available.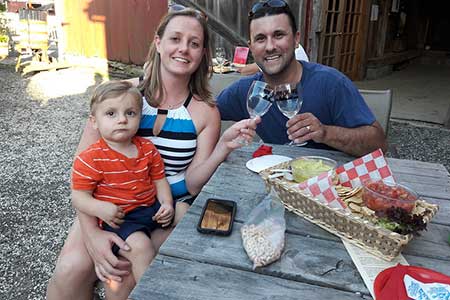 In addition to wine tastings, we host a Winery Weekend Music Series in the winter, spring and summer and Sunset Sips and Sounds in the summer.
Wine Trails
Terhune Orchards Vineyard & Winery is a member of the Garden State Wine Growers Association, which organizes wine trails among a group of over 40 wineries in New Jersey. Wine trails are a great way to experience a day of fun destinations tasting New Jersey wine. Vineyards have specials, entertainment and themed events during wine trail weekends.
Garden State Wine Growers Association
Visit newjerseywines.com for participating wineries, GSWGA Festivals, events and more info.
Passport Program
Be a part of the fun on the trail! Download the app and explore New Jersey wineries. Maybe even win a prize.