The sky above Terhune Orchards will be filled with brightly colored kites in a variety of shapes and sizes as farm visitors enjoy our high-flying festival from 10 a.m. to 5 p.m. Kite Day is a perfect time to explore the farm during our spring festival. Spring on the farm is one of the most beautiful and exciting seasons. All is ready for the bountiful growing season.
Children of all ages (and adults too!) can join in the fun. Bring your own kite or choose a ready-made kite from the wide selection in the store. Or better yet, make a "guaranteed to fly" kite. Whichever you choose, test fly your kite in our wide-open 10-acre pasture with all the farm animals looking on.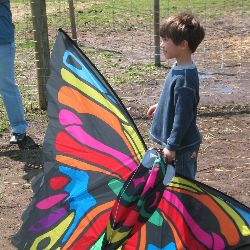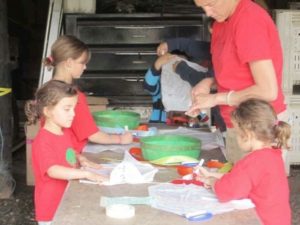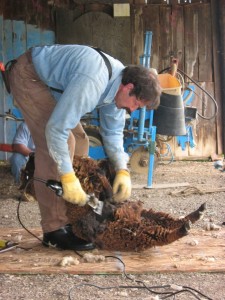 The fun doesn't stop there. We will have old-fashioned children's games set up in our barnyard. Kids can play pin the tail on the piggy, blow bubbles, go "fishing", give our bean bag toss a try, and more. Children can take a pony ride or get their face painted. Visit our animals, including our dogs Apple and Peach, our cats, goats, sheep, donkeys, bunnies and chickens. On Sunday at 2 p.m., watch as our sheep are prepared for spring and shorn. Children can take home a souvenir piece of wool!
See spring unfolding on a tractor-drawn wagon ride through the orchards. Our fields will be planted, our asparagus will be sprouting, our fruit trees and flowers will be blooming. Enjoy live country music with bands both Saturday and Sunday from noon to 4 p.m.
For all those hungry kite fliers, we'll have lots of good country food. The whole family will enjoy Terhune Orchards' famous apples, cider, donuts, pies, country chili, hot dogs, our own fresh and grilled asparagus, salads, soup and all kinds of cookies and goodies. Adults can taste our own wine in the Terhune Orchards Winery Tasting room. Our 14 varieties of wine are made from grapes grown right here at Terhune Orchards.
So go fly a kite at Terhune Orchards! Kite Day is from 10 a.m. to 5 p.m. Parking at the farm. Admission to the festival area is $10, age 3 and up. No admission fee to farm store or winery.