Terhune Orchards Winery is open Sat & Sun 12pm-5pm, with outdoor seating only. Please call ahead if weather is inclement 609-924-2310. Bottles are available in the farm store seven days a week. 
Enjoy wine by the glass, tasting flights, and mulled wine. Get cozy next to a firepit or heater. S'mores and hot cocoa kits available for the kids. Masks are required at all times on the farm premises, except when seated at tables. Groups are limited to 6 guests and have a 2 hour time limit. Light fare including chips & salsa baskets and cheese plates will be available. Tables are socially distanced.
Come enjoy the fresh air and open space under our apple trees! No pets or outside food permitted.
Upcoming Events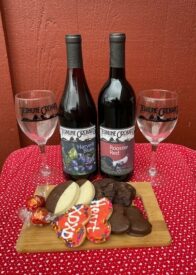 Valentine's Virtual Wine & Chocolate Tasting
February 12 at 7pm | February 13 at 3pm | February 14 at 3pm
Celebrate Valentine's with a Terhune Orchards special wine pairing and Valentine program.  We are featuring two of our favorite wines for Valentine's Day, Harvest Blues and Rooster Red. (Choose from 3 dates and times offered.) What goes better together than wine and chocolate? Enjoy Terhune's own homemade chocolate cookies in a special assortment along with chocolate truffles. The semi-sweet wines are wonderful paired with these delicious treats. Toast with Terhune Orchards wine glasses. Two are included in this Valentine's Day Package.
After the purchase of our virtual wine tasting package, you will be sent a link prior to the Zoom gathering to the registered email address.  The gathering will include a virtual tour of Terhune Orchards' vineyard and winery as well as the guided wine tasting of these Valentine's favorites described by the winemakers themselves.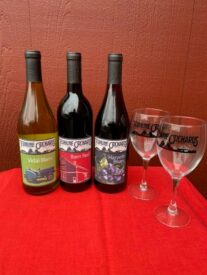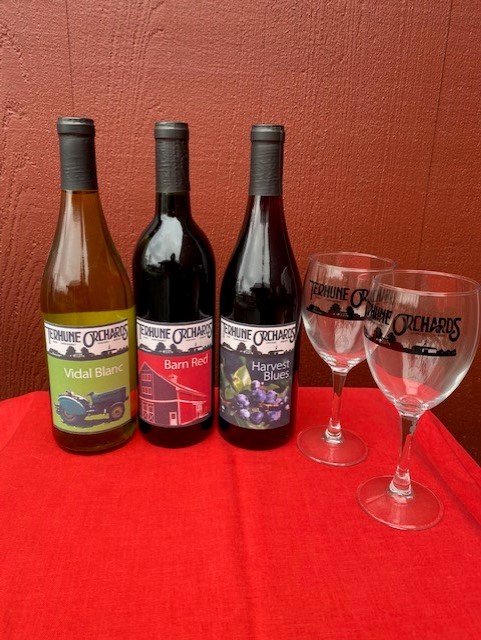 Private Virtual Tasting
Interested in a private virtual tasting for your friends, family or co-workers?
Create a special gathering in the safe distancing of your own home and remotely share bottles of Terhune Orchards own wines with your friends, family, and co-workers. Enjoy a guided tasting with our own winemaker. Each virtual package includes: full Bottles of our Vidal Blanc, Barn Red (Cabernet blend) and Harvest Blues (Governor's Cup Award winner apple-blueberry wine); a 1 hour guided wine tasting via Zoom with Terhune's own winemaker & virtual tour of Terhune Orchards vineyard and winery; and two Terhune Orchards souvenir wine glasses.
Prefer to choose your own wines? Trio of wine can be custom arranged for guests. To make a booking, email Tannwen at tmount@terhuneorchards.com.