Fresh Baked Goods Daily
There's nothing better than having farm fresh ingredients transformed into tasty homemade desserts, local pies, fruit breads, cookies, cakes, and gingerbread . You can purchase our delicious baked goods and local pie options year-round in the farm store. You can also order them online for store pick up or local delivery.
Enjoy the farm fresh taste of our local pies, apple cider donuts, crisps, cookies, and more!
You will find these and other treats at the farm store: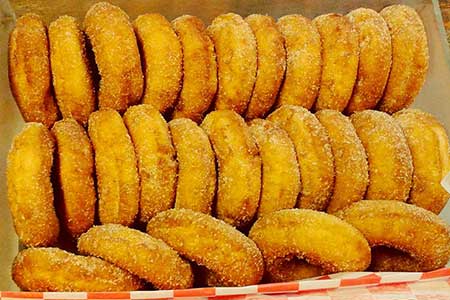 Apple Cider Donuts
A trip to Terhune Orchards is not complete without our famous apple cider donuts. Baked fresh every day and made with Terhune Orchards' own apple cider! Try our special donut holes – these mini versions are a special treat! They might not even make it home.
Donuts make a fun wedding or party favor – email info@terhuneorchards.com for more details.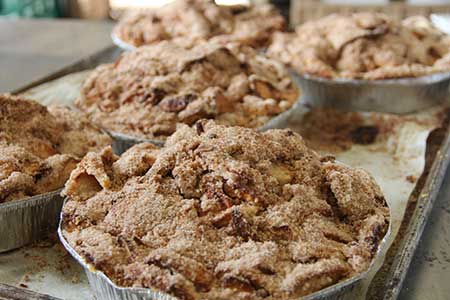 Apple Crisps and Cakes and more
One of our most popular desserts is deep dish, plump apple crisp filled with fresh Terhune Orchards apples and topped with a crumbly streusel topping of brown sugar and cinnamon. The recipe is from Gary Mount's mother, Lillian Mount, and we have been making it at Terhune Orchards since 1975. Try our traditional apple or apple-blueberry or apple-cranberry versions of this classic, filled with lots of cranberries or blueberries!
Terhune Bakery makes a wide variety of delicious treats. Try delicious, moist Mama's Apple Cake, our gingerbread cake, and peach or blueberry cobblers.
Our homemade Granola and Fruit Nut Bars are made with all-natural ingredients and are a healthy treat. Don't miss our deep fudge nut brownies or rich lemon squares.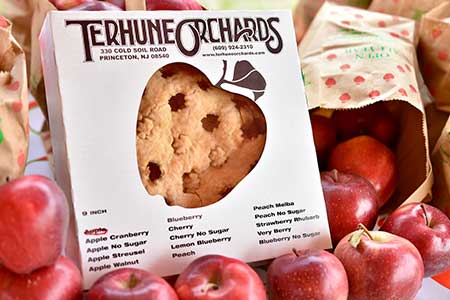 Pies
Terhune Orchards fruit pies remain one of our most in-demand bakery favorites. We offer a variety of flavors and sizes!
Crisps: Apple Crisp, Apple Cranberry Crisp, Apple Blueberry Crisp
See our pie fundraiser program for a great way to raise money for your school, PTA or club.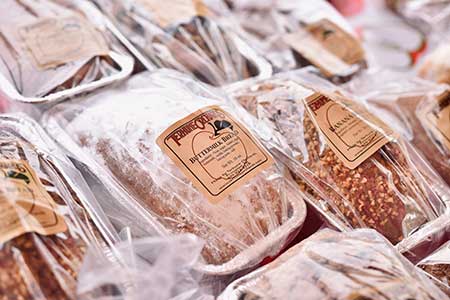 Homemade Fruit and Tea Breads
Our homemade fruit breads are chock-full of fresh fruit. Each is a delectable balance of not-too-sweet cake and the choicest fruit. We have flavors that appeal to all tastes – apple, cranberry nut, pumpkin, lemon, gingerbread, sour cream, blueberry and many more. With more than 10 types of breads from which to choose, you'll be able to enjoy a special treat for breakfast, tea, dessert or any time of the day.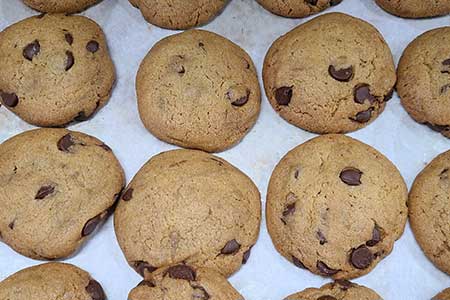 Homemade Cookies
Our bakers make 15 different kinds of homemade cookies, from traditional chocolate chip and snickerdoodles, to beautifully decorated sugar cookies, almond crescents, Russian tea cakes and more! Stop by the farm store to pick up some delicious cookies anytime you feel the craving. You can also order them by the pound for the holiday season packaged as gifts in attractive baskets or trays.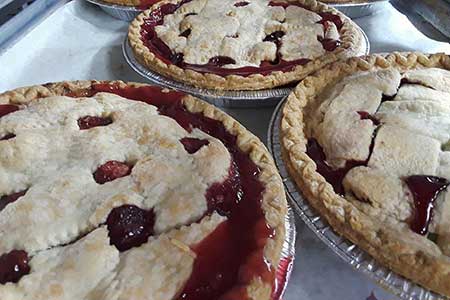 Options for Special Diets
It's hard to believe our Vegan Blueberry Nut Bread is egg-free and dairy-free. It's so delicious! For those who are diabetic, Terhune Orchards offers sugar-free pies in apple, cherry and peach. You can't taste the difference!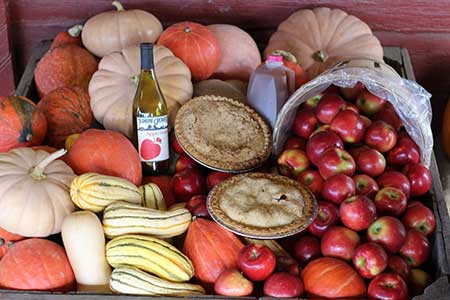 Holiday Orders
Don't forget to get your pies for Thanksgiving and Christmas at the farm store. You can reserve your Thanksgiving pies to be picked up at the farm store Sunday through Thursday, Thanksgiving Day (open 9 a.m. 'til noon only), or at the Trenton Farmers' Market (open Tuesday and Wednesday before Thanksgiving).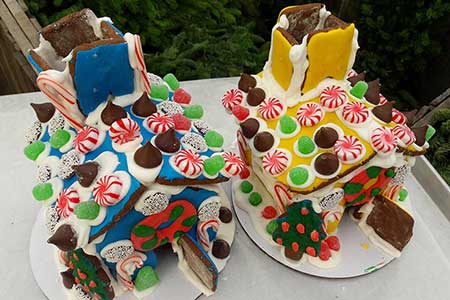 Gingerbread Houses
Our handmade, traditional gingerbread houses are a hit in any home! They are drizzled with frosting and outlined with an assortment of gumdrops and candies. Send these one of a kind decorated gingerbread houses to loved ones nationwide or a gingerbread house kit for young ones to have the fun of making themselves.
Please call ahead for special orders or for large quantities.