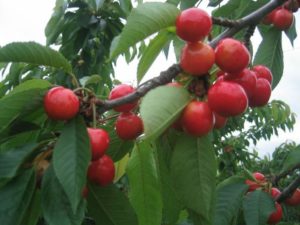 Short but very sweet is the cherry season at Terhune. Sweet cherries are great for eating fresh, while sour cherries are prized for their flavor in pies, jams and cakes.
Relatively recently (in the last 15 years) size-controlling rootstocks has become available. These were developed in Germany and are now called "Gisela" rootstocks. Consequently, it was possible to plant a cherry tree that is easily covered with bird netting and stays short enough to be picked without the use of ladders. Perfect for Terhune Orchards Pick Your Own cherry orchard.
When planted our orchard, we chose cherry varieties that were more resistant to cracking. They absorb less water and are less affected by rain. We still cover our entire orchard with a high tunnel cover to keep the rain off and protect the cherries from too much rain, as well as netting to protect them from the hungry birds.
For some varieties in the orchard we have planted eleven varieties Ulster, Lapins, Somerset, Hedelfingen, Hartland, Chelan, Schmidt, Regina, Rainer (yellow blush) and Montmorency (tart variety for cooking and baking).
Cherry season goes by fast (often in only one or two days). If you wait until "next weekend" to pick cherries, you may be too late. And, this June, in the middle of the month, picking will be "ready, set, go," because the season is still "short and sweet."
Be sure to sign up for our email newsletter for Pick Your Own updates!