History of Terhune Orchards
Terhune Orchards was purchased by Gary and Pam Mount in 1975. At the time, the farm consisted of 55 acres of apple and peach trees, a few pear trees, and a 1930s farm store called The Apple House where apples and cider were sold in September and October.
The Mounts bought the farm after spending three years in the Peace Corps. The couple had been inspired by the work they did on a small island of about 400 people in Micronesia. While Pam taught the children of the community, Gary helped the island residents learn about agricultural practices and water management, becoming an expert on coconut cultivation.
When they returned to New Jersey after traveling the world, they began a five-year search for a place with the same sense of community they experienced in Micronesia. They found it in Terhune Orchards!
The farm had been owned by the Terhune family for two generations. Because the Mounts were new to the farming business, they kept the more established Terhune name. In 1985, they bought the Van Kirk Road orchard and planted apple trees with Pick Your Own in mind. Over the next 45 years, Terhune Orchards evolved from a small tree farm into a highly diversified 250-acre farm with more than 50 varieties of crops, a winery, an expanded farm store, education programs and a wealth of farm activities for the whole family all year round.
The interest in growing grapes for wine started with the next generation of the farm family. One of Gary and Pam's daughters, Tannwen, returned to the farm after living in Northern California and encouraged the family to expand into the winery business.The vineyard has now expanded to almost 10 acres of vines and 16 varieties of wines, including three varieties made with our own apple cider.
The Mounts have modernized the farm, replanted the orchards with more productive varieties, initiated soil conservation measures and added improvements like trickle irrigation. Throughout the years, despite continual growth and changes, the Mounts have remained focused on the community and creating a welcoming space for the public. Open year-round, the farm is beautiful in all seasons with gardens, farmyard attractions and annual farm festivals that have now become traditions for generations of families.
The Mount Family
Today, Terhune Orchards is a thriving diverse agriculture operation and a popular tourist destination, proudly run by Gary and Pam, along with their daughters Reuwai and Tannwen. Their son, Mark, is a U.S. Army sergeant who has served three tours of duty in Afghanistan and is now stationed in Georgia with his family. The Mount grandchildren are familiar faces at the farm and participate in many of the activities that make up daily farm life.
Farming has always been a part of Gary's life. He grew up on a large apple farm, Mount Farms, on Route 1 in West Windsor, which his family sold in the early 1960s. Ironically, Pam grew up on Terhune Road in Princeton. She and Gary started dating while attending Princeton High School. Pam went to college in Ohio, studying art and education. Gary went to Princeton University. They were married in 1967, just prior to serving three years in Micronesia while in the Peace Corps.
Their first daughter, Reuwai, was three years old and Tannwen was on the way when they moved to Terhune Orchards. Their son, Mark, arrived in 1978.
Tannwen works full-time at the farm and lives in the farmhouse on Van Kirk Road with her husband, Jim, and their children, Becket, Clayton and Hadley. Tannwen focuses on the retail side of Terhune operations, managing the Apple Corps staff, events and marketing as well as developing education programs. Jim is a teacher at Montgomery High School. Reuwai, her husband, Mike, and their daughters, Maya, Sasha and Tess, live across from the farm on Van Kirk Road. Reuwai's background is in science, and after working as a science teacher, she returned to the farm full-time. She concentrates on the growing side of Terhune operations, improving our sustainability in the orchards and fields and managing over 50 different crops. Mike teaches at the Lawrenceville School. Son Mark is a staff sergeant in the Army currently stationed in Ft. Benning, Georgia, with his wife, Vicky, and children, Madison and Wyatt.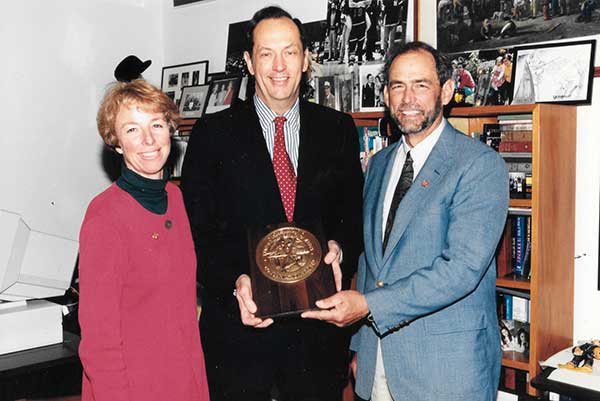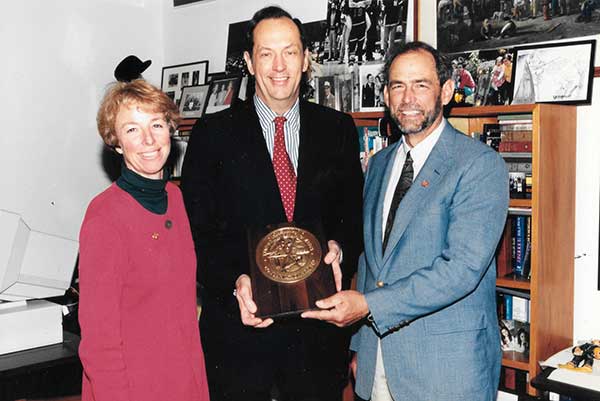 Accomplishments and Accolades
In 2018, the Mount Family was honored as the "Vegetable Grower of the Year" by the New Jersey State Board at the New Jersey State Board of Agriculture and New Jersey Vegetable Growers Association convention. They were recognized for their many years of outstanding and dedicated service to the agricultural community.
The New Jersey Wine Competition has awarded Terhune's Blueberry Wine with its Governor's Cup for best fruit wine. Our Harvest Blue, Blossom White and Just Peachy wines have also won gold medals.
The family is known for hosting farm tours for local, state, national and international organizations. In recent years, extension educators from across the U.S. and Canada toured Terhune Orchards to glean wisdom through their 45+ years of production.
The Mount family has long been committed to service and has served in many positions of responsibility over the years. Most recently Reuwai was voted president of the Mercer County Board of Agriculture, a position her father has held in the past. Tannwen is past president of the New Jersey Farmers' Direct Marketing Association. She participated in the Agricultural Leadership Development Program. Tannwen has also been vice president of her class at Princeton University since 2008.
Pam Mount is always a volunteer at heart. She was elected to Lawrence Township Town Council in 200 and served for 12 years, three years as mayor. She is known for her involvement in starting and sustaining New Jersey Agricultural Society programs, including the Agricultural Leadership Development and Farmers Against Hunger programs. She started the community group Sustainable Lawrence, which led to the state-wide Sustainable Jersey program, which she chaired for three years. Locally, she started the Lawrence Community Foundation and Lawrence Township Education Foundation.
Gary currently sits on the boards of the Howell Living History Farm, the Mercer County Agricultural Development Board, the Mercer County Soil Conservation District and the Trenton Market Growers Cooperative. He previously served on the New Jersey State Board of Agriculture, as a Mercer County director for the New Jersey Farm Bureau, and as both president and vice president of the Mercer County Board of Agriculture. Gary was named National Apple Grower of the Year in 2005 by American Fruit Grower magazine, and in 2012 he was inducted into the International Fruit Tree Association Hall of Fame.
These positions represent a fraction of the family's involvement with agricultural and community organizations in New Jersey.