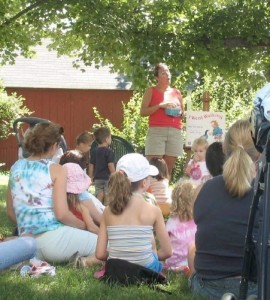 Read & Pick is an innovative program that combines hands on farm activity with your young child and listening to a story highlighting the fruit or farm area. Parents/guardians and young children (ages preschool to 8 years) are welcome.
Each program includes reading two stories about a topic. Staff will explain how crops grow and how to pick them. Each program costs $10 per participating child and includes picking a container of fruit or an activity.
The programs are on Tuesdays, with 2 separate sessions at 9:30am and 11am, and last about one hour. Children must be accompanied by an adult. Please call 609-924-2310 or click below.
You must check in for each program in the store at 330 Cold Soil Road. Please note schedule is subject to change.
Peaches
Strawberries
Apples
Flowers
Schedule 2020:
Read & Pick: Vegetables May 5 @ 9:30 am & 11:00 am
Read & Pick: Farm Animals May 19 @ 9:30 am  & 11:00 am
Read & Pick: Growing a Garden of Goodies June 2 @ 9:30 am & 11:00 am
Read & Pick: Strawberries June 9 @ 9:30 am & 11:00 am
Read & Pick: Cherries June 16 @ 9:30 am & 11:00 am
Read & Pick: Monarchs, Swallowtails, and Honeybees – Oh My! June 30 @ 9:30 am & 11:00 am
Read & Pick: Blueberries July 14 @ 9:30 am & 11:00 am
Read & Pick: Flowers July 21 @ 9:30 am & 11:00 am
Read & Pick: Peaches August 4 @ 9:30 am & 11:00 am
Read & Pick: Pears August 18 @ 9:30 am & 11:00 am
Read & Pick: Apples August 25 @ 9:30 am & 11:00 am
Read & Pick: Chickens September 8 @ 9:30 am & 11:00 am
Read & Pick: Tractors September 22 @ 9:30 am & 11:00 am
Read & Pick: Pumpkins October 6 @ 9:30 am & 11:00 am
Registration Requested
Register Now