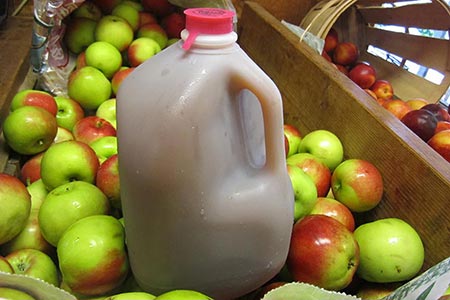 Terhune Orchards Cider is fresh pressed all year round. Thanks to our special controlled atmosphere storage, we are able to have crunchy apples all year and, thus, a supply for our delicious apple cider. That's because it's made from only one ingredient: APPLES!
How Do We Make It Taste So Good?
We use a blend of apples to perfect the right level of tart and sweetness in our apple cider. We inspect and wash all of our apples before we grind them into a "pomace" that we squeeze, filter, pasteurize and cool. No sugar or preservatives are added. Fresh cider goes through our bottling line and into a variety of sizes: gallons, half gallons and pints. You can even enjoy the farm favorite Apple Cider Slush!
Read more with Gary Mount
You can even have our cider shipped to that special someone far away. We freeze one gallon of our fresh-pressed homemade apple cider and then pack it in an insulated box before shipping.
To order, visit our online store.