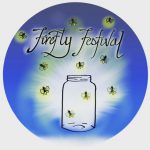 Fireflies are an "electrifying" part of summer. Join us to celebrate summer with a FREE event, an evening of nature, music, wagon rides, and outdoor fun!
Children can celebrate by dressing up as fireflies – making their your own wings and antenna.  Children will become 
bio-luminescent
with their own a bug lights. There will be a $7.00 charge for the craft activities. 
Visit our barnyard friends: chickens, sheep, donkeys, goats, and bunnies. Have fun on pedal tractors, in the discovery barn, and in the barnyard play area. Take a pony ride around the pasture.
Did you know fireflies are actually beetles? These insects use their bioluminescence as a way to communicate with each other. Look out for their signaling while you are on a pony ride or a free wagon ride. Fireflies are mostly found along the edges of forests, wooded yard areas, and near streams or ponds. Terhune Orchards goes to great lengths to cultivate habitats for beneficial insects like bees, butterflies and fireflies on its 200 acres of preserved farmlands.
Hungry? You'll find lots of goodies available at Pam's Firefly Tent: grilled chicken, hot dogs, pie, apple cider, donuts, cookies, apples and more!
Get your toes tapping and wings flapping with the tunes of local music by Tookany Creek Band. Get a refreshing apple cider slush or nice cold ice cream and dance to the evening away.
Adults can enjoy Terhune's own wine to sample or by the glass in the winery orchard. Try a tasting flight, a wine slushy, and light fare including homemade salsas and cheese plates.




Everyone wear your wings! Come and enjoy a flickering, flying, fun evening on the farm. Admission is FREE. Parking is available at Terhune Orchards.