Developed in New Jersey as NJ#55, a cross of Golden Delicious and Cox Orange Pippen. A golden color with an orange blush.
Oct-Nov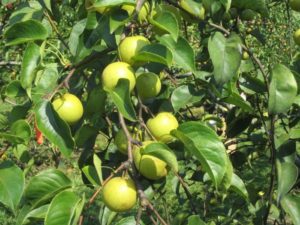 SunCrisp, is a crisp, firm yellow apple with a red blush. Formerly known as NJ55, SunCrisp was developed at Rutgers University by Dr. Fred Hough, a now retired fruit breeder. It is the result of cross-breeding Golden Delicious, Cortland, and Cox's Orange Pippin apples. Newly developed apples, which all begin life as a number, are named only after they are tested and ready for commercial sale.
SunCrisp was originally planted at Terhune Orchards on the recommendation of Mitch Lynd, an Ohio fruit grower and friend of Gary Mount. Gary wanted an apple that looked like Golden Delicious, but had firmer flesh and a more interesting flavor. Although Golden Delicious is an old standard, it does bruise easily and has a shorter shelf life because of its less-than-crisp texture. SunCrisp has no such shortcomings! In its short reign, SunCrisp has quickly gathered a loyal following, which is sure to make it a Pick-of-the-Crop favorite at Terhune Orchards!