Group Wine Tastings at the Winery
Enjoy a special private tasting with your group of friends, family or co-workers. Learn about Terhune Orchards and Winery history as you are guided through the wines you are enjoying. Everyone will receive a souvenir Terhune Orchards Vineyard and Winery glass to take home.
Group enjoys guided tasting of five Terhune wines with winery staff
Guide program approximately 30-45 minutes
8 person minimum, $15 per person
Additional options of light fare and additional reserved space available for fee
To book your private tasting contact events@terhuneorchards.com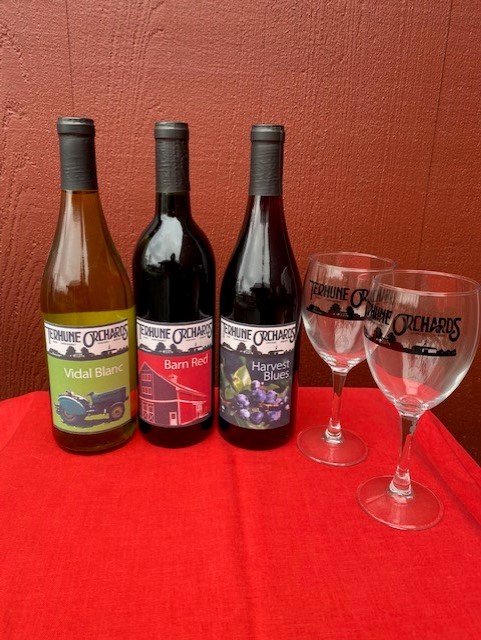 Live Virtual Wine Tastings
Create a special gathering in the safe distancing of your own home and remotely share bottles of Terhune Orchards' own wines with your friends, family and co-workers. Enjoy a guided tasting with our own winemaker.
Each virtual tasting package includes:
Full bottles of our Vidal Blanc, Barn Red (Cabernet blend) and Harvest Blues (Governor's Cup Award winner apple-blueberry wine)
Plus: 1-hour guided wine tasting via Zoom with Terhune's own winemaker & virtual tour of Terhune Orchards vineyard and winery
Two Terhune Orchards wine glasses
$65/package
Prices do not include shipping or delivery. Tasting packages can be picked up at the farm store, delivered ($10 delivery fee) locally, or shipped to New Jersey or Florida.
Trio of wine can be custom arranged for guests.
To book your virtual event, please email tmount@terhuneorchards.com.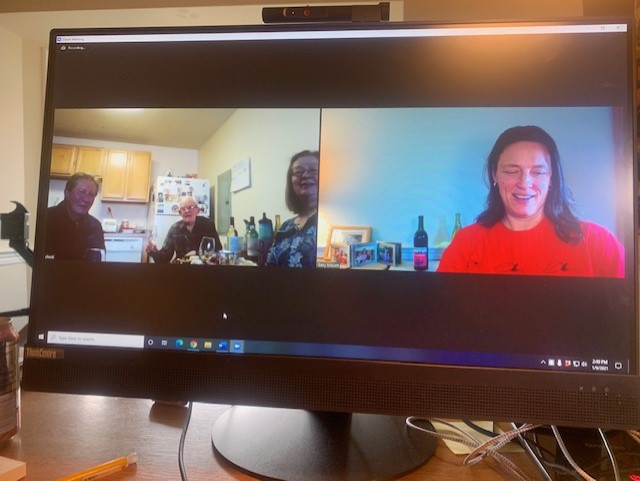 In this photo of a virtual tasting, 98-year-old birthday boy Phil is celebrating with his kids Rosemary Cuffaro and Charlie Svoboda, as well as host Reuwai Mount Hanewald, owner and winemaker at Terhune Orchards.