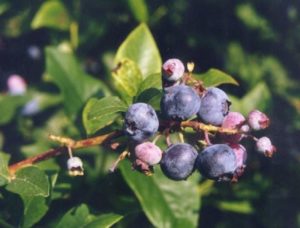 You've probably noticed that four rows of Terhune Orchards blueberry bushes have vanished, only to be replaced by 580 small plants of Nelson and Brigitta varieties of blueberries. You'll like these new varieties for their excellent flavor, enormous size, and because they're ready to be picked in August after most other blueberries have been consumed!
With more "bush time" to their credit, these varieties spend their extra time in the sun developing a unique sweetness and flavor. For you berry aficionados, this adds up to a much longer season of outstanding blueberries at Terhune Orchards! That's the good news. The bad news is that they take a bit of time to grow. Each year the bushes get bigger and reach full production after 8 years.
Although all plants received the same care, Nelson has proven to be less hardy and many of the plants died over the 1999-2000 winter. They were replaced in the spring of 2000 with a new, very large blueberry called Bonus.
Don't forget to check out our blueberry recipes.