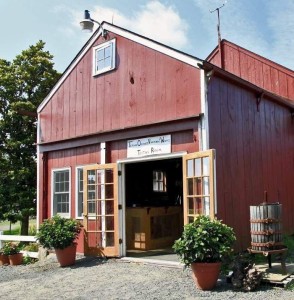 Terhune Orchards is owned and operated by Pam and Gary Mount and daughters Tannwen Mount and Reuwai Hanewald.  Pam and Gary Mount started Terhune Orchards in 1975 after buying the home farm of 55 acres on Cold Soil Road.
In 2004, Terhune Orchards expanded with the purchase of the 67 acre permantly preserved "Johnson Farm" on Van Kirk Road.   These open fields, once cleaned up and rejuvenated, presented lots of possibilities for new directions for Terhune Orchards. Daughter Tannwen returned to the family farm full time after 6 years in San Francisco, enthusiastic about the idea of a vineyard and winery.  In 2006, Gary and Tannwen planted  five acres of grapes. We planted 12 varieties to see what would grow well in our climate, with the largest amounts in Chamborcin, Vidal Blanc, Cabernet Franc, Cabernet Sauvignon and Traminette.  After four years of loving care, the first crop of grapes were harvested in 2009. By September of 2010, the wine was in the bottle with seven varieties and the Terhune Orchards tasting room was open at the farm's historic barn. Son-in-law Mike Hanewald and Gary had spent several years perfecting Apple Wine made from Terhune Orchards own apple cider, so that was added to the list of offerings.
The vineyards have been expanded to 9 acres of grapes and 14 varieties of wine, including three fruit wines made from Terhune Orchards' own apple cider.
The historic 150-year old barn on the farm is home to the tasting room.  The main barn is a central and important element in the life of a farm. Since 1850, the barn had been home to livestock, hay and storage for wagons. It then became the site of the Terhune Orchards bakery and cider processing and now has a role as our winery tasting room.
Terhune Orchards is one of the few operating farms in the Garden State to also have a winery and tasting room. People visiting the tasting room also enjoy Pick-Your-Own and the farmyard activities as well as the farm store full of fresh fruits and vegetables.  Having grown fruits and vegetables for 40 years, adding the vineyard to the farm has been exciting and rewarding.