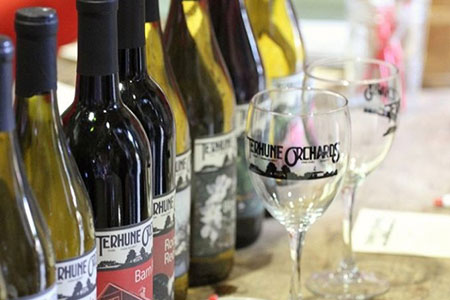 Wine by the Glass
Choose from any of our 16 varieties, listed below.
White/Fruit – $8.00
Red – $9.00
Wine Slushies
Peach or Blueberry-Peach Wine Slushy – $11.50
Tasting Flights
Choose one of the following flights. Includes four pre-selected 2-oz. pours for $12.00.
Dry White Flight: Farmhouse White, Chardonnay, Vidal Blanc, Apple Wine
Variety Flight: Farmhouse White, Traminette, Chambourcin, Barn Red
Semi-Sweet Flight: Front Porch Breeze, Blossom White, Harvest Blues, Just Peachy
Red Flight: Chambourcin, Barn Red, Campfire Red, Rooster Red
Wine by the Bottle
Bottles are available to go only. For drinking on the premises, please order by the glass.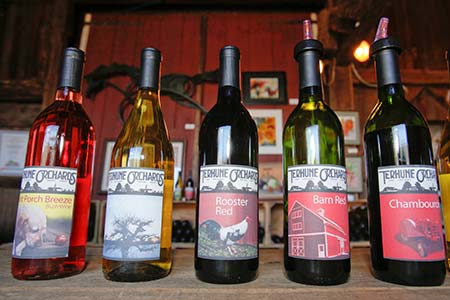 Dry Whites
Farmhouse White – $16.50/bottle, $8/glass
Chardonnay – $16.50/bottle, $8/glass
Off-Dry Whites
Vidal Blanc – $17.00/bottle, $8/glass
Apple Wine – $17.00/bottle, $8/glass
Traminette – $16.50/bottle, $8/glass
Rosé – $16.50/bottle, $8/glass
Red Wines
Chambourcin – $18.50/bottle, $9/glass
Barn Red – $19.50/bottle, $9/glass
Campfire Red – $19.50/bottle, $9/glass
Rooster Red – $18.50/bottle, $9/glass
Semi-Sweet Wines
Cold Soil White – $16.50/bottle, $8/glass
Front Porch Breeze – $16.50/bottle, $8/glass
Blossom White – $16.50/bottle, $8/glass
Sangria – $17.00/bottle, $8/glass
Cranberry – $17.50/bottle, $8/glass
Fruit Wines
Harvest Blues – $17.50/bottle, $8/glass
Just Peachy – $17.50/bottle, $8/glass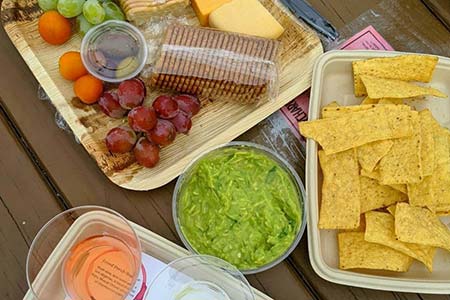 Food & Non-Alcoholic Beverages
Cheese Plate – $16.00
Salsa & Chips – $15.00
Lemon Seltzer – $2.25
Apple Cider Pint – $2.75
Bottled Water – $2.25
Barn Door Cafe
Open Friday, Saturday & Sunday – lunch fare, snacks, ice cream and treats
No outside food or beverages permitted