Terhune Orchards Vineyard & Winery is a member of the Garden State Wine Growers Association, which organizes wine trails among a group of over forty wineries in New Jersey. Wine trails are a great way to experience a day of fun destinations tasting New Jersey wine. Vineyards have specials, entertainment and themed events during wine trail weekends.
Most of the wineries in New Jersey participate in the GSWGA wine trails. Visit newjerseywines.com for participating wineries, GSWGA Festivals, events and more info.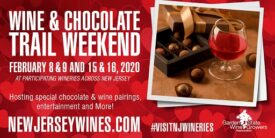 Wine & Chocolate Wine Trail Weekends
Saturday & Sunday, February 8 & 9, 15 & 16, 2020
Visit us in the Terhune Orchards Vineyard and Winery tasting room as we join other wineries across the State for a weekend of wine and chocolate. We are offering a special wine and chocolate pairing of locally made chocolates and Terhune wines. Bring your loved one, friends and family to enjoy sweet treats on this festive Wine Trail Weekend.
Vintage North Jersey is a collaboration of 10 northern New Jersey wineries in Sussex, Warren, Hunterdon and Mercer Counties.