Terhune Orchards taps into ancient traditions on Sunday, Jan. 26 with Wassailing the Apple Trees Farm Festival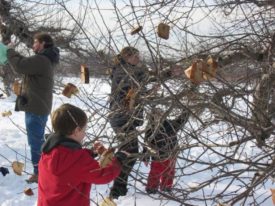 Each winter Terhune Orchards follows an Anglo-Saxon tradition of Wassailing the Trees. Wassail is an ancient Saxon word that means "health be to you," and it's the health of the trees that we will celebrate. We ask you to help us make the 2020 season great by joining us on Sunday Jan. 26 from 1-4 p.m. for our annual Wassailing Party.
The wassailing custom began in England where many villages relied on the apple harvest. Knowing that the spring buds are on the trees in the winter, it was thought that creating a racket in winter would scare away bad spirits and ensure an excellent harvest in autumn.  We follow this tradition by opening the apple orchards to visitors in winter with much fanfare and merriment to ensure a good harvest in the coming year.
We will gather under the bare branches of trees in our orchard which are over a century old.  Handsome Molly dancers dressed in traditional garb of black costumes play an important role in the festivities each year.  Everyone joins in with toasts of hot cider and placing gifts of cider-soaked bread in the tree branches while chanting the lively words of praise for the New Year. Bring noisemakers (or we will have plenty on hand)— drums, whistles, bells, clackers, or put a few pebbles in an empty coffee can with a lid. These will make a joyful and worthy noise to drive away any and all spirits.


Once we are done; we feast! Gather around the bonfire to roast marshmallows and enjoy a free cup of our hot apple cider and apple cider donuts.
Spiced Punch will perform old traditional songs and ballads in the heated wine barn. Enjoy wine tastings and light fare. Toast the upcoming apple season with a glass of our Apple Wine, made from our own apple cider.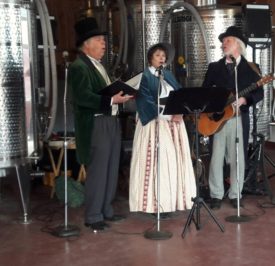 Wassailing the Apple Trees Farm Festival is free and open to the public. Put on your scarf and hat and come out for the afternoon to take part in the age-old wassailing festivities. For more information about the festival visit terhuneorchards.com or call (609) 924-2310.
Find Terhune Orchards online at terhuneorchards.com, on Facebook  and Instagram.
Terhune Orchards is located at 330 Cold Soil Rd.
The farm store is open daily Mon. – Fri., 9a.m. – 6 p.m., Sat. and Sun. 9 am -5 pm
The winery is open Fri. –  Sun. 12-5 pm