Terhune Orchards Celebrates Pumpkins, Pumpkins, Pumpkins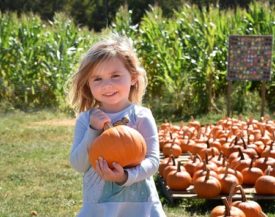 On Columbus Day weekend, families can enjoy three full days of fun on the farm during a special extended Fall Family Festival Weekend for the holiday. In October, thoughts turn to choosing the best pumpkins for your holiday displays and recipes.
Ranging from giant to small, Terhune Orchards has the pumpkin just right for your needs. Search our pick your own pumpkin patch for the perfect jack o' lantern pumpkin or choose one from the display in our farmyard. After choosing their pumpkin, children will enjoy visiting the paint your own pumpkin decorating area to decorate it. Parents appreciate leaving the messy paints here and bringing home the colorful masterpiece painted by their children when it is dry.  At this time of year, the farm yard is a picture perfect setting, pots of colorful mums, pumpkins, gourds and corn stalks to take home to decorate for fall.
More fun on the farm during Fall Family Weekends includes our corn maze, barnyard animals to visit, pony rides, scavenger hunts, hay bale maze, children's farm store and shop, hippty hop corral, a rubber duck race and many more children's activities. A walk on the farm trail or a ride on a tractor drawn wagon lets the family explore our preserved farmlands during our favorite time of year at the farm.  Each festival day features a new local musical guest that plays toe-tapping, good old-fashioned country music.
Being out in the crisp fall air can work up an appetite. Freshly baked pumpkin and apple treats are available at Pam's Fall Food Tent.  Enjoy your choice of our famous apple cider donuts, pies, muffins and freshly pressed apple cider.  Pulled pork sandwiches, barbecue chicken, vegetarian chili, and hearty soups make staying for a farm fresh lunch an excellent choice. The winery tasting room is also open for adults to sample Terhune Orchards Vineyard and Winery's award winning red, white and fruit based wines. Enjoy a glass of wine in this weekend with your lunch in our expanded seating inside the festival in our "Wine Orchard."
Admission to all festival days is $10, ages 3 and up. Festivals are from 10am-5pm. Parking and access to the farm store, winery and pick your own orchard on Van Kirk Road is free. Family Fall Fun Weekends continue every week through Oct 27th.



Terhune Orchards is located at 330 Cold Soil Rd., Princeton, NJ.
The farm store is open daily, 9 a.m. –6 p.m.
The winery is open Friday- Sunday, 12:00 p.m. – 5 p.m.
Wine bottles available in farm store daily.
Pick-your-own apples Every Day
Terhune Orchards' Van Kirk orchard will be open every day for apple picking from 9 a.m. to 5 p.m. Stayman Winesap, our fall favorite, are available for picking this weekend. Call the farm store for available varieties at 609-924-2310
Local bands will perform during Fall Festival Weekends from 12-4 p.m.
Oct. 12           Mountain Heritage
Oct. 13           Stony Brook Bluegrass
Oct. 14           Jay Smar
Oct. 19            Goodbye Blue
Oct. 20            Raritan Valley Ramblers
Oct. 26            Borderline
Oct. 27            Heavy Traffic Bluegrass Band
Find Terhune Orchards online
www.terhuneorchards.com
Facebook.com/terhuneorchards
Instagram @terhuneorchards
Twitter @TerhuneOrchards
Please tag posts #terhuneorchards