LAWRENCE GAZETTE by Joe Emanski, Thu, 01/13/2011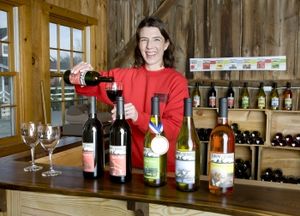 Lawrence Gazette featured Terhune Orchards Vineyard and Winery
As the afternoons at Terhune Orchards go from chilled to frigid and autumn turns to winter, the farm that bustles with activity and commerce through the apple-picking months typically slows a bit, until the crops start growing again in the spring.
But now that Terhune is a full-fledged winery, Tannwen Mount sees a reason for visitors to stop by the popular farm on Cold Soil Road year round
Mount is one of two daughters of Pam and Gary Mount, long-time owners and operators of Terhune Orchards. A 1998 graduate of Princeton University, she was employed by The University of California and living in San Francisco, not far from the famed wine-growing regions of the Napa and Sonoma Valleys, before returning to Lawrence to work on the farm in 2003.
Around then, Mount had an idea to put some of the farm's land on Van Kirk Road to use as a vineyard. The first crops were planted in 2005.
"I came back here thinking about having another revenue stream," she said. "Now we're into winter, but with the tasting room, we're open and people can visit all year."
It takes years for grapevines to start producing fruit fit for winemaking. Terhune's were finally ready for prime time in September 2010.
Of the seven wines they've bottled so far, one has already sold out the chardonnay. Another, the vidal blanc, earned Terhune's first wine award, a bronze medal at the 2010 New Jersey State Wine Competition.
The rustic tasting room is in a 150-year-old barn situated a short walk from the farm store. There, visitors can buy all the Terhune wines, ranging in price from $13.50 to $17.50.
They can also sample all the wines on offers "six as of last month" for $5. (For $8, customers can take home a souvenir glass.)
In addition to the semisweet and fruity vidal blanc, Terhune was last month pouring a chambourcin, described as medium-body red with a dry and clean finish and a light taste of cherry; and their Barn Red, a blend of 75 percent Cabernet Franc and 25 percent Cabernet Sauvignon.
Also available for sampling was Front Porch Breeze, a blush wine, blending cayuga and seyval grapes and gaining color from chambourcin; and Cold Soil White, a traminette with a hint of riesling and cayuga. The Mounts have planted 12 varieties of grapes on the farm all told, and plan to bottle even more varieties in 2011.
They were also pouring an apple wine concocted by Gary Mount and his son-in-law, Mike Hanewald. Hanewald is married to Tannwen's sister, Reuwai. The Mounts also have a son, Mark.
Including Terhune, there are now 34 member wineries of the Hamilton-based Garden State Wine Growers Association, situated as far north as Montague and as far south as North Cape May. Mark Carduner, a winemaker and one of five owners of Silver Decoy Winery in Robbinsville, said having more wineries in the area helps everyone.
"I wish we had 100 wineries," Carduner said."If you look at the areas in the country, the ones that are more successful are ones that have a certain density of wineries."
Carduner said more wineries in the region give potential consumers confidence that there is quality product in the area, and that the wine industry in New Jersey has a future.
"Hopefully [when you visit Silver Decoy], you're not coming to see just my winery, but others in the area," he said.
Terhune Tasting room attendant Ellen Rogers, a resident of Skillman, said so far there's been a good mix of both wine enthusiasts and casual drinkers. Terhune has seen some customers come with their wine passports, a program of the GSGWA that rewards wine enthusiasts for visiting all the participating wineries in New Jersey. (More information is online at newjerseywines.com.)
Tannwen and Gary have been working with a consultant as they learn the ins and outs of winemaking.
"Foremost, we're a farm, so we know the growing end of things very well," Mount said. "Growing grapes is similar to growing other vine crops. Now, making wine is a big learning curve. It's very precise."
Terhune Orchards is scheduled to be a part of the GSGWA's Wine and Chocolate Wine Trail Weekend, scheduled for Feb. 12& 13. Terhune is on the Warren-Hunterdon trail along with Brook Hollow Winery, Four Sisters Winery at Matarazzo Farms, Alba Vineyard, Villa Milagro Vineyard, Old York Cellars and Hopewell Valley Vineyards. On the Web: terhuneorchards.com.
Alexandra Yearly did some reporting for this story.