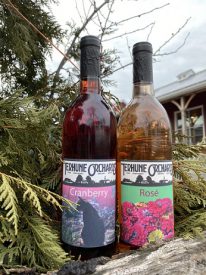 Wine lovers have a lot to be excited about this winter season. During February and March, Terhune Orchards winery tasting room is open every Friday – Sunday 12-5 p.m. Warm up with our hot mulled wine and try a tasting flight or glass of our wines. Join us for special winery events in the wine barn. Take a glass out to the fire pits to enjoy the warmth.
On March 7 & 8, Terhune Orchards Winery is celebrating our two latest wines, Rosé and Cranberry, at a Wine Release Party from 12-5pm both days.
Get to know our tangy new arrivals in the tasting room during this special meet-and-taste weekend. Our semi-dry Rosé is bright and crisp with berry notes, not too sweet and even a bit spicy. Rosé complements appetizers before dinner and white-meat main courses. Our Cranberry will greet you with a vibrant aroma. Grape wine with a touch of luscious sweet-tart flavor, Cranberry plays well with any meal or simply on its own. Pick out a few delights from our light fare to enhance your tasting experience.
Enjoy a free sample of both Rosé and Cranberry during our official wine launch weekend while listening to the sounds of live music from 1pm-4pm each day. On March 7, Lindsay Ketofsky will perform and Jerry Monk on March 8.
On March 28 & 29, take a break from cabin fever and join us for a special Wine & Chocolate Weekend pairing Terhune wines and  locally made chocolates from Pierre's Chocolate of New Hope known for their old world recipes and single origin artisan chocolates.  Terhune's own bakery will be baking chocolate treats to enjoy along with wine tastings. Add to the festivities with a cheese tray and other light fare. On Sunday, enjoy live music by Barbara Lin Band. Bring your loved one, friends and family to enjoy sweet treats on this chocolate weekend.
We continue our Sunday Music Series every Sunday in our Wine Barn. Enjoy local musicians each week as they play country, bluegrass, and jazz from 1-4pm with no cover charge. Wine by the glass and light fare is always available.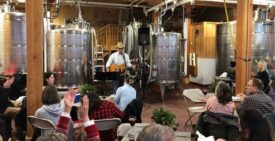 Winery Sunday Music Series 2020
March 1 – Carmen Marranco
March 7 – Lindsay Ketofsky
March 8 –Jerry Monk
March 17 – Bill O'Neal & Andy Koontz
March 22 – Bill Flemer
March 29 – Barbara Lin Band
Terhune Orchards is located at 330 Cold Soil Rd., Princeton NJ.
Find Terhune Orchards online at terhuneorchards.com, on Facebook, Twitter and Instagram.
The farm store is open daily Mon. – Fri., 9a.m. – 6 p.m., Sat. and Sun. 9 am -5 pm
The winery is open Fri. – Sun. 12-5 pm
Bottles of wine are available in the farm store daily.