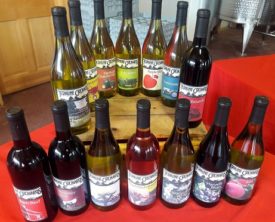 Terhune Orchards invites you to come enjoy live music and wine tasting in our Winery Sunday Music Series. Join us on Sundays from 1:00-4:00 pm for live music in the Wine Barn and courtyard. Catch up with friends and family over a glass of wine.  Local musicians ranging in styles from country and bluegrass to jazz and rock keep the mood light.
The large windows in the climate-controlled barn are a perfect vantage point to watch farm life outside or view the stainless steel wine storage tanks and bottling line where white, red and fruit-based wines are produced from estate grown grapes.  Enjoy our 14 wine varieties including red, white and fruit-based wines, by the glass or as a tasting flight.  Terhune Orchards wines are available by the glass and light fare is available. No cover charge. Wine tasting is $7 per person.
Winery Sunday Music Series Schedule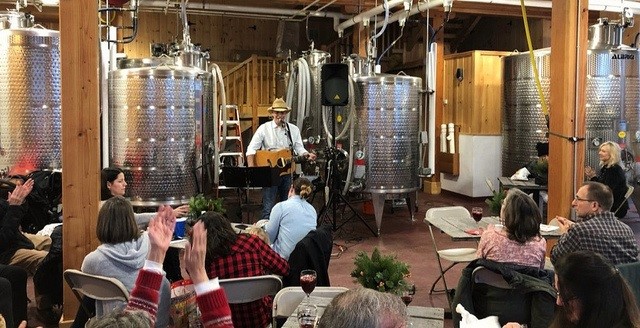 March 17 – Jim Matlack & Carmen Marranco
March 24 – Kingston Ridge
March 31 – Bill O'Neal & Andy Koontz
April 7 – Maggs and Bud
April 14 – O'Neil & Martin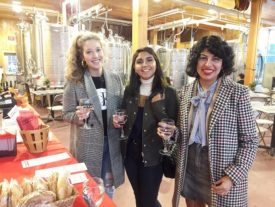 On March 30 & 31, join us for a special Wine & Chocolate Weekend from 12-5 pm in the winery. For this weekend, we are offering a special wine and chocolate pairing of locally made chocolates and Terhune wines. Chocolate pairing includes wine flight, chocolates and a souvenir glass. We have partnered with Pierre's Chocolates of New Hope, PA, known for their old-world recipes and single-origin artisan chocolates.  Enjoy chocolate baked goods homemade in Terhune's own bakery paired with our award-winning wines. Bring your loved ones, friends and family to enjoy sweet treats.  Take a stroll on the farm trail to look for signs of spring. On Sunday, enjoy the music of Bill O'Neal & Andy Koontz.
Terhune Orchards is located at 330 Cold Soil Rd., Princeton NJ.
Find Terhune Orchards online at terhuneorchards.com, on Facebook, Twitter and Instagram.
The farm store is open daily Mon. – Fri., 9 am – 6 pm; Sat. and Sun., 9 am -5 pm.
The winery is open Fri., Sat. and Sun. 12-5 pm.
Bottles of wine are available in the farm store.