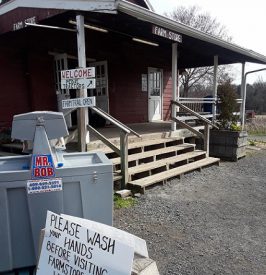 We are open! Terhune Orchards is serving the community during normal business hours, 7 days a week, Monday-Friday, 9am-6pm and Saturday & Sunday 9am-5pm. We continue to be committed to providing fresh, locally grown food as well as being a community center of open space. We have increased our already rigorous food safety & hygiene protocol while continuing to follow state rules and guidelines.
Fresh produce is picked daily by our trained staff following safe handling and cleanliness procedures. We fill the store with crisp fruits and vegetables daily. We have onsite bakers dedicated to providing an abundance of goodies including pies, cookies, and breads. Our farm store is well stocked with locally sourced milk, eggs, meats, and other staples. If you are trying to avoid crowds, we welcome you to shop with the Mount Family and Terhune staff in the fresh open air.
For customer convenience, we will offer farm store porch pickup and local deliveries (within 15 miles). Call 609-924-2310 or place your order online (shop.terhuneorchards.com) and within 24 hours our friendly staff members will assist in getting your purchase to your car or home.
Please feel free to use our farm while still adhering to social distancing suggestions. There is plenty of open space and fresh air where your family can take a stroll on the trail or visit the barnyard. We understand that the health and hygiene of our community is of the utmost importance, therefore additional hand washing stations have been made available for our visitors and staff.
Our Tasting Room is temporarily closed and all special events, including our weekend music series, are postponed until further notice. Bottles of Terhune Orchard Vineyard wines can be purchased in the store daily to alleviate a bit of your disappointment!
Terhune Orchards, The Mount Family and Staff thank our community in supporting local businesses. Fresh food, fresh air and staying healthy together.


Terhune Orchards is located at 330 Cold Soil Road, Princeton, NJ.
Visit Terhune Orchards online at terhuneorchards.com, on Facebook and Instagram.
Contact us with any questions or concerns by calling 609-924-2310 or emailing us at info@terhuneorchards.com.
Farm store hours: Monday-Friday, 9am-6pm and Saturday/Sunday, 9am-5pm.
Trenton Farmers Market Stand: Thursday- Saturday 9am-4:30pm