Drink in the relaxing days of summer and kick back with friends at Terhune Orchards Vineyards and Winery's summer weekend events. There is no admission fee, and families are welcome.
On Friday nights through September 6, celebrate the end of the week at Sunset Sips and Sounds music series. Enjoy live jazz, blues and folk music performances in our climate-controlled wine barn from 5-8 p.m. and sip on a refreshing blueberry or peach wine slushie. Or choose a glass of our award-winning red or white wine, or fruit wine made from fruit grown at Terhune Orchards. Dine from a menu of homemade fare featuring Terhune produce, such as Greek salad, gazpacho, a cheese platter and fruit pie. The little ones can order from special children's menu.
On Sunday afternoons through the end of August, come out for our Winery Sunday Music Series for a delightful way to close out your weekend. Enjoy award-winning Terhune wine in our new wine production barn or tented, outdoor patio from noon to 6 p.m. and live music from local artists from 1 to 4 p.m. Our blueberry and peach slushies and light bites are available. (See the music schedule below.)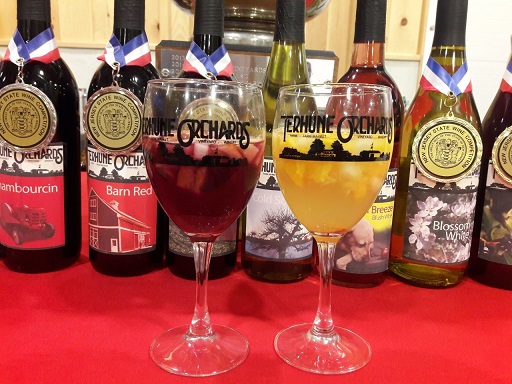 Join us for Sangria Weekends throughout August! Sangria, a summertime staple bursting with fruit, originated in Spain around 1100 B.C. It was featured at the 1964 World's Fair in New York and has been popular in the U.S. ever since. Nothing is more refreshing on a hot summer day than our red sangria, featuring Terhune's Chambourcin wine and our own crisp apples, and our white sangria made with Terhune's Vidal Blanc and our fresh peaches. If you prefer, cool down with a blueberry or peach slushie.
Bring friends and share refreshments in our 100-year old barn. Olé!
| | |
| --- | --- |
| Sunset Sips & Sounds Music | Winery Sunday Music |
| August 2 – Roundabout | August 11 – Bill Flemer |
| August 9 – Ocean Country | August 18 – Acoustic DuoVer |
| August 16 – Mark Miklos | August 25 – Jerry Steele |
| August 23 – Darla & Rich | |
| August 30 – Party of Three | |
| September 6 – Laundrymen | |
Terhune Orchards Vineyards and Winery
Our winery produces 14 varieties of wine. Reds and whites are made from grapes grown in our 9-acre vineyard. Apple, blueberry and peach wines are made from our own fresh cider. We are one of the few fruit and vegetable farms in New Jersey to have a winery and tasting room. A historic, 150-year old barn, formerly home to hay and equipment, is now home to our tasting room on Fridays. Our wine production barn is a comfortable, climate-controlled place to gather on Saturdays and Sundays.
Our winery events are enhanced by the beautiful setting. Grab a seat in our outdoor area, and soak up the farm's natural scenery. The grape vines growing along the Wine Barn share a glimpse into the care we give the grapes in our vineyard.
We are proud to offer a variety of wines to please every palate:
Fruit Wines: Apple Wine*, Harvest Blues*, Just Peachy**.
Dry White Wines: Farmhouse White**, Chardonnay, Heritage Chardonnay.
Off-dry White Wines: Vidal Blanc*, Traminette.
Dry Red Wines: Chambourcin*, Barn Red**.
Semi-Sweet Wines: Rooster Red*, Cold Soil White*, Front Porch Breeze**, Blossom White*.
*   New Jersey Wine Competition award winner
** Garden State Wine Challenge medal winner
Harvest Blues and Just Peachy were distinguished with the Governor's Cup at the New Jersey Wine Competition.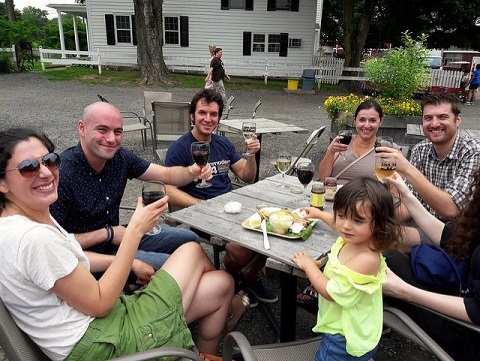 Terhune Orchards is located at 330 Cold Soil Rd., Princeton, NJ 08540
The winery is open Friday – 12 p.m. – 8 p.m.; Saturday and Sunday, 12 p.m. – 6 p.m.
The farm store is open Mon-Fri, 9 a.m. – 7 p.m. Sat & Sun 9a.m. -6 p.m. Wine bottles are available for purchase in the store every day.
Find Terhune Orchards online at terhuneorchards.com, on Facebook, Twitter and Instagram.