People of all ages have glowing memories of chasing fireflies on a warm summer night. If you've never done it yourself, let Terhune Orchards introduce you to this timeless summer fun at its annual Firefly Festival. On Sunday June 23, visitors will be treated to an electrifying afternoon and evening from 4-9 p.m. Admission to Firefly Festival is free.
Firefly Festival is a fun filled event for the whole family. Children can dress up as fireflies after decorating wings and making antennas in the craft area. There is a $5 charge for craft activities. Children can also take pony rides for a fee. Free wagon rides around the farm and orchards, and visit with our farm animals are always fun for everyone.


During the afternoon Miss Amy and the Big Kids Band will get the crowd up dancing, playing instruments and having fun while we wait for the bugs to start their blinking.
Did you know fireflies are actually beetles? These insects use their bioluminescence as a way to communicate with each other. Look out for their signaling while you are on a pony ride or a free wagon ride. Fireflies are mostly found along the edges of forests, wooded yard areas, and near streams or ponds. Terhune Orchards goes to great lengths to cultivate habitats for beneficial insects like bees, butterflies and fireflies on its 200 acres of preserved farmlands.
Don't let hunger bug you. While waiting for nature's show have an old-fashioned farm supper at Pam's Food Tent. The grill will be cooking up everyone's summer favorites- hot dogs, barbecued chicken, along with salads and gazpacho. Pies, donuts and other freshly baked treats will be available for dessert, too. The winery tasting room will stay open late for flights of wine tastings.
Admission and parking is free. Craft activities are $5.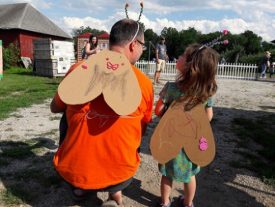 For more information call 609-924-2310 or visit www.terhuneorchards.com
Terhune Orchards is located at 330 Cold Soil Rd., Princeton.
June Hours:
The winery is open Fridays- 12:00 p.m. – 8 p.m., Saturdays and Sundays, 12 p.m. – 6 p.m.
The farm store is open daily, 9 a.m. – 6 p.m. Wine bottles are available in the store daily.
Find Terhune Orchards online at terhuneorchards.com, on Facebook and Instagram @terhuneorchards