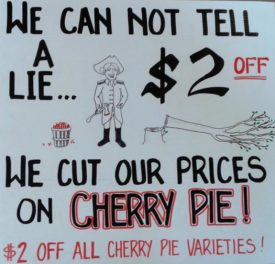 Each February, Terhune Orchards honors the memory of Presidents George Washington and Abraham Lincoln with our sale on cherry pie. We have a lot to celebrate; whether you choose Lincoln's Birthday on Wednesday, Feb. 12 or Washington's Birthday on Saturday, Feb. 22, or Presidents Day on Monday Feb 17, our freshly-baked cherry pies are $2 off the regular price in honor of these two great presidents who both had an All American, honest love for cherry trees and pies.
Historical records show us "Honest Abe" Lincoln loved pie so much the ladies from Illinois would send them to him in Washington D.C. Presidential Lore about George Washington as a child chopped into his father's beloved cherry tree with his new hatchet and then told the truth about it when facing reprimand.
We have to be truthful ourselves, out of the over 20 varieties of pies made at Terhune Orchards, cherry is a family favorite.  We're not the only ones wild for cherry pie.  Feb. 20th is National Cherry Pie Day.  Enjoy a slice for breakfast, lunch or dinner with fellow pie loving patriots.
Made from sour cherries, the best kind for pies, our ruby red, cherry pies make a great Valentine's Day gift, too. Stop into the farm store to pick up a pie or place an order for pickup by calling 609-924-2310 or emailing info@terhuneorchards.com.
In the farm store, we also have an assortment of locally produced gift ideas for your sweetie such as Terhune Orchards wines, items baked fresh daily in our bakery and flowering bulbs.



When you visit the farm on weekends during the cherry pie sale in February, you can raise a toast your favorite president at our Wine & Chocolate weekends on Feb. 7-8 and 15-16 from 12-5 p.m. Tastings of Terhune Orchards Vineyards wines and local chocolates will be available in the new wine barn. Live music on Sundays from 1-4 p.m.
Terhune Orchards is located at 330 Cold Soil Rd., Princeton
The farm store is open Mon- Fri 9 a.m. – 6 p.m. and Sat. – Sun., 9 a.m. –5 p.m.
The winery is open Friday, Saturday and Sunday, 12 p.m. – 5 p.m.
Find Terhune Orchards online at terhuneorchards.com, on Facebook and Instagram.