September 21 and 22 Is "Honoring Military" Weekend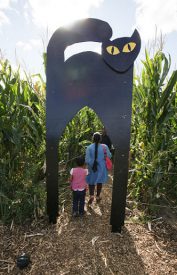 Men and women of the military, we salute you! At Terhune Orchards, your bravery and dedication to our country are very much appreciated. That's why we're pleased to invite active duty, national guard, reservists, and their immediate family members (with ID) to attend our Apple Days Harvest Festival on September 21 and 22 as our guests.
Our Ties to the Military
Appreciating public service has always been part of the Mount family tradition. Our son Mark has been in the army for 18 years. He is a staff sergeant who spent several years in Germany and was deployed three times in Afghanistan. He and his family are now stationed at Fort Benning in Georgia. Pam has supported the New Jersey National Guard, serving over 12 years on the National Guard Family Readiness Council, which raises funds and gives grants to deployed guardsmen and women who find themselves running into financial difficulties during their deployment.
Apple Days Harvest Festivals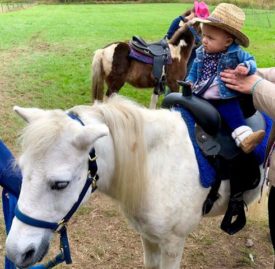 All of our Apple Days Harvest Festivals, which run through October 27, are packed with apples and family friendly activities. When you arrive at our farm, you'll see that we proudly fly the American flag—and an apple flag—to greet visitors.
Your day at Terhune Orchards will be filled with wholesome fun. Take a seat and listen to live music from popular local bands—Growing Old Disgracefully on Saturday, 9/21 and Stone Hearth on Sunday, 9/22. Get the flavor of the season with a cup of our freshly pressed apple cider and homemade apple cider donuts. Come aboard our tractor-pulled wagon and enjoy a relaxing ride around our preserved farmland. Our orchard produces more than 30 varieties of apples during the season, and you'll see red, green and yellow apples dotting the trees. Explore the mazes we created with hay bales and corn maze, and visit our pick-your-own pumpkin patch to choose your favorites.
We love when children visit, and our festivals offer all sorts of kid-friendly activities! The little ones will keep busy with pony rides, scavenger hunts, pumpkin picking and painting, rubber duck races, and face painting. Be sure to bring them to the barnyard to visit the animals! This year, our unique Adventure Barn—always full of interactive exhibits—is highlighting New Jersey, the Garden State. Don't miss it.
When your appetite kicks in, visit Pam's Food Tent for a delicious lunch. Hot dogs, BBQ chicken, pulled pork sandwiches, vegetarian chili, homemade soups, and other fare will be available. It wouldn't be an Apple Days festival without our own apple cider donuts, apple pies, apple muffins, and more.
Before you head home, visit our farm store. It's brimming with fresh farm-grown fruits, vegetables and herbs as well as colorful mums, pumpkins, seasonal decorations, and many apple treats.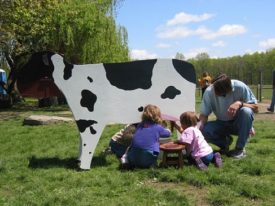 Take time to visit our winery tasting room to enjoy a glass of our award-winning wine. Terhune Orchards Apple Wine, made from our own apple cider, is a seasonal favorite. Red, white and other fruit wines are also available.
Extend your day by heading to our 27-acre Van Kirk Road orchard to pick your own apples. We offer free wagon rides every weekend, and admission is free. All of the trees are dwarf varieties—the perfect picking height for all visitors.
Hours
We invite you to enjoy the festivals from 10 a.m. to 5 p.m. and to visit the Van Kirk orchard between 9 a.m. to 5 p.m.
Farm Market Fall Hours
Farm Store – Daily 9 a.m.-6 p.m.
Wine Tasting Room – Fri-Sun, noon-6 p.m.
Find Terhune Orchards online
www.terhuneorchards.com
Facebook.com/terhuneorchards
Instagram @terhuneorchards
Twitter @TerhuneOrchards
Please tag posts #terhuneorchards