Summer Sips & Sounds Friday Nights at Terhune Orchards Vineyard & Winery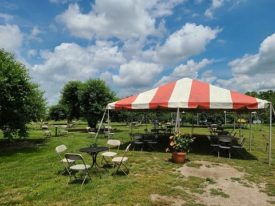 Terhune Orchards kicks off summer Sips & Sounds on Friday nights beginning 8/7. Relax and watch the sun set. Plan a date night in our historic, picturesque apple orchard. Listen to the soothing sounds of local bands in the fresh, open air while sipping a glass of your favorite Terhune Orchards award-winning wine. Families welcome.
As we stay open late every Friday evening 5-8pm through Labor Day, our winery welcomes guests to enjoy our outdoor space with plenty of seating under our spacious tents and amongst the apple trees. Take the night off from cooking! Picnic box dinners available – fresh, local fare, easy to eat, while listening to music.  Enjoy light fare including cheese platters, chips and salsa.
There are so many ways to savor our amazing selection of wines! During the month of August, Terhune's seasonal sangria, made from our very own fruit, is the best way to cool off. Or try our refreshing wine slushie. Our pre-poured tasting flights are available to take to your table for experienced wine lovers and novices alike. Choose 4 2oz pours from 3 selections – semi-sweet, dry, or variety – an excellent way to sample several of our delicious, carefully crafted wines. And don't forget to take a bottle, or 2, to go home!
Winery is open Friday, Saturday and Sunday. Enjoy more local music during our Weekend Music series Saturdays and Sundays 1-4pm making it easy to find time for yourself as you unwind and get ready for the week ahead.
For everyone's safety, masks are required while visiting Terhune Orchards unless you are seated at a table. No reservations necessary, no admission fees, and a maximum of 6 people per group, please.
August Music Schedule 
August 7 Mark Miklos
Aug 8 Mike & Laura
Aug 9 Mags & Bud
Aug 14 Acoustic DuoVer
Aug 15 Kara & Corey
Aug 16 Jerry Steele
August 21 – Jerry Steele
Aug 22 Brian Bortnick
Aug 23 Barbara Lin Band
August 28 Bill O'Neal & Andy Koontz
Aug 29 Roundabout
Aug 30 Jerry Steele
Terhune Orchards  Hours: 
Winery: Fri 12 p.m. – 8 p.m., Sat & Sun, 12 p.m. – 5 p.m.
Music: Fri 5 p.m. – 8 p.m., Sat & Sun 1 p.m. – 4 p.m.
Farm Store: Mon-Fri 9 a.m. – 7 p.m., Sat. & Sun. 9 a.m. – 5 p.m.
Location: 330 Cold Soil Rd, Princeton, NJ
Find Terhune Orchards Online 
www.terhuneorchards.com
Facebook.com/terhuneorchards
Instagram @terhuneorchards