Sangria Weekends Return to Terhune Orchards Vineyard and Winery: August 1 through August 30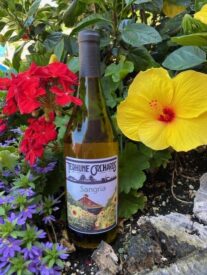 Sangria Weekends return every Saturday and Sunday in August. Come cool off with sangria made with our own wine and Terhune own fruit.  What a refreshing way to enjoy summertime on the farm!
Enjoy sangria in our socially distanced seating in the winery located in our historic apple orchard. Open air seating under tents and in the fresh air. Masks are required unless seated at a table. No groups of more than 6 please. Live music from 1pm-4pm Saturday and Sunday.  Bring home a bottle to make a pitcher at home any day of the week. 
Enjoy a burst of summer's flavor with a glass of wine that combines our Apple Wine with summer's favorite fruits.  Harvest Blues is a semi-sweet wine with a hint of tartness from blueberries. Fragrant and fruity, our Just Peachy wine is the essence of summer in a bottle.  The Front Porch Breeze, our blush wine is an excellent refreshing wine for hot summer days.  Wines are available by the glass, in a tasting flight or wine slushies.   
The Sunset Sips and Sounds series on Fridays will begin August 7. Every Friday night the Terhune Orchards winery tasting room will stay open late from till 8 p.m.  Each week there will be live musical from 5-8 p.m. Light fare including cheese platters, chips and salsas while you sip and listen to local musical guests. Special "picnic boxes" for dinner fare will be available.
August Music Schedule
Aug 1 – Bill O'Neal & Andy Koontz
Aug 2 – Jerry Steele
Aug 7 – Mark Miklos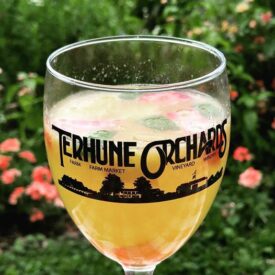 Aug 8 – Mike & Laura
Aug 9 – Mags & Bud
Aug 14 – Acoustic DuoVer
Aug 15 – Kara & Corey
Aug 16 – Jerry Steele
August 21 – Jerry Steele
Aug 22 – Brian Bortnick
Aug 23 – Barbara Lin Band
August 28 – Bill O'Neal & Andy Koontz
Aug 29 – Roundabout
Aug 30 – Jerry Steele
The winery is open Friday- 12:00 p.m. – 8 p.m.
Saturday and Sunday, 12 p.m. – 5 p.m.
The farm store is open daily, Mon-Fri 9 a.m. –6 p.m. Sat & Sun 9am-5pm
Terhune Orchards is located at 330 Cold Soil Rd.
Find Terhune Orchards online at terhuneorchards.com, on Facebook, Instagram.