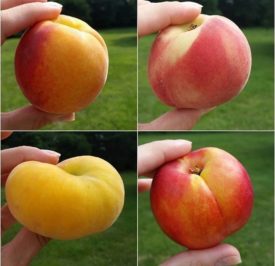 Peaches love heat, so we have an abundance of big, delicious, juicy peaches at Terhune Orchards. We grow 32 varieties of peaches and nectarines, including yellow and white freestone peaches, donut peaches and white and yellow nectarines—all tree-ripened with unmatched flavor. Each peach ripens on its own clock, so we pick peaches from each tree three to four times a week. You have to love a fruit that's all about individuality.
The recent scorching summer days and rain have helped produce a bounty on the farm that extends well beyond peaches. Visit our store to browse the bushels overflowing with colorful, just-picked fruits. Take home peaches to snack on, feature in a homemade pie or even grill. Choose fresh vegetables, such as green and yellow zucchini, to sauté with olive oil and garlic. Treat your dinner guests to a salad made with our organic red leaf, green leaf and Boston greens.
The farm store also offers freshly backed, old-fashioned apple crisps, apple blueberry crisps, peach cobblers and pies—and of course our famous cider donuts.
Pick Your Own, Fresh from the Fields
New this year is Pick Your Own Peaches, August 3 & 4 and 10 & 11 only. Picking your own peaches is a fun activity for the whole family. Come see how our peaches grow and enjoy time in our beautiful orchards. Also pick blueberries and blackberries fresh from thornless bushes, Tuesday through Sunday while supplies last. You can also pick your own colorful flowers all summer long from the fields in front of the farmhouse.
Mark your calendar: Apple picking season begins Labor Day weekend. Follow us on Facebook and Instagram for updates on the availability of pick-your-own crops or call (609) 924-2310.
Summer Events at Terhune Orchards
Join us on August 3 and 4 as we celebrate peaches with our Just Peachy Festival. Then enhance your summer weekends at Terhune Orchards in the comfort of our new, air-conditioned wine barn. Come to our Sunset Sips and Sounds music series, Winery Sunday Music Series and Sangria Weekends. Families are welcome.
The winery tasting room is open Friday noon-8pm, Saturday & Sunday 12pm-6pm. Bottles are available in the farm store daily.



Farm and Farmers Market Summer Hours
Farm Store – Mon-Fri, 9am-7pm, Sat-Sun, 9am-6pm
Winery – Friday 12pm-8pm, Sat & Sun, noon-6pm
Princeton Farmers Market – Thu, 10am-3pm
Trenton Farmers Market – Thu – Sat, 9am-4:30pm
West Windsor Farmers Market – Sat, 9am-1pm
Find Terhune Orchards online
www.terhuneorchards.com
Facebook.com/terhuneorchards
Instagram @terhuneorchards
Twitter @TerhuneOrchards
Please tag posts #terhuneorchards