Visiting Terhune Orchards in the fall is always an adventure. This year is even more adventure with our Adventure Barn theme. It's about our Garden State, New jersey. We are thrilled to highlight New Jersey "firsts" from the 1st drive in movie theater in Camden in 1932 to Martians Landing in Dutch neck to Washington's Army crossing the Delaware  and Revolutionary Soldiers to the Lenape Native Americans and the one and only New Jersey Devil. Walk through this life-size story and experience all this and more at Terhune Orchards during the Harvest Festival Adventure Barn.


Saturdays and Sundays are famous for wonderful local bands. On Oct 5, enjoy the music of Albo Band and on Oct 6, tap your toes to Reock and Roll. The Fall Food Tent is full of great farm fresh food from salads, homemade soups, barbeque chicken and pulled pork sandwiches, hot dogs, mac and cheese to cider donuts and pies.
Get lost in our great corn stock maze or have the kids entertained all afternoon in their own play area with kid sized farm market or tractor mechanic shop. Take a bounce in the Hippity Hop Corral. Ride the tractor drawn wagon around the farm, hunt for pumpkins in the pumpkin patch.




Enjoy a glass of award-winning wine at our tasting room and shop for everything fresh and great at Terhune farm store. Terhune apples, apple cider, apple cider donuts, and homemade apple treats. Also explore the wide range of fresh organic vegetables and herbs grown here on the farm and the pretty display of colorful mums, pumpkins and seasonal decorations.
For apple picking, visit our 27-acre 13 Van Kirk Road orchard (around the corner) from 9 a.m. to 5 p.m. All of the trees are dwarf varieties, so visitors of all sizes can easily pick.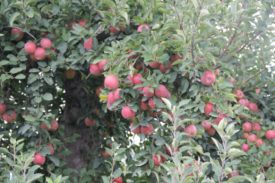 Please join us on weekends through October 27 for additional Apple Days Harvest Festivals. Hours are 10 a.m. to 5 p.m. Admission is $10, ages 3 and up. Parking and access to the farm store and winery are free.
Farm Market Fall Hours
Farm Store – Daily 9 a.m.-6 p.m.
Wine Tasting Room – Fri-Sun, noon-6 p.m.
Find Terhune Orchards online
www.terhuneorchards.com
Facebook.com/terhuneorchards
Instagram @terhuneorchards
Twitter @TerhuneOrchards
Please tag posts #terhuneorchards