Our Van Kirk Road Orchard opens Labor Day Weekend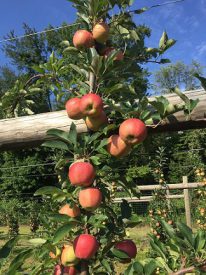 Pick-your-own apple season officially begins at Terhune Orchards Labor Day weekend at our Van Kirk Road orchard on Saturday, Aug. 31, Sunday, Sept. 1, and Monday, Sept. 2 from 9 a.m. to 5 p.m. We will remain open for apple picking from 9 a.m. to 5 p.m. every day through October, weather permitting.
Our 27-acre orchard produces 13 types of apples during the season. All of the trees are dwarf varieties—the perfect height to pick from for all ages. Gala and Honeycrisp apples will be the first varieties available for picking. The attractive Gala is mild and sweet. Its nutritious thin skin makes it easy to cut into wedges, so it's an excellent choice for a lunchbox or afternoon snack. The Honeycrisp, true to its name, is crisp and honey sweet—with a little bit of tartness. Bite and enjoy.
When you visit, you'll find a unique variety of apples available for picking. Come see our trees bursting with Empire, Fuji, Gala, Honeycrisp, Macoun, Granny Smith, and Red and Golden Delicious apples. The Stayman Winesap, our customers' favorite, is usually ready for picking in early October. Call the farm store at (609) 924-2310 to find out which varieties are available on the day you plan to visit. Pick-your-own apples are sold by the pound.
On weekend days throughout the fall, enjoy a free wagon ride to the orchards. At different times during the season, in addition to Gala and Honeycrisp, you can pick:
Early Fuji—Sweet and crisp. Eat it right out of your hand.
Empire—Handsome and juicy. Perfect for applesauce, desserts and snacks.
Fuji—Sweat and crisp. Makes an excellent snack. Has a long storage life.
Golden Delicious. Sweet. Good for baking and freezing.
Granny Smith—Tart and all-purpose.
Jonathan—Crisp and mildly tart. Great for pies.
McIntosh—Aromatic. Cooks quickly and easy to peel.
Macoun—Very crunchy. Nice in salads and sauces and as a snack.
Red Delicious—Sweet and juicy. Low acidity.
Stayman Winesap—Our most popular apple. Flavorful and tart, it keeps well.
Crimson Crisp—Soon to be our most popular apple. Crisp and tasty.
Once you've picked your favorite apples, stop in our farm store on Cold Soil Road. Enjoy our freshly pressed apple cider and famous apple cider donuts, and pick up homemade apple treats to serve at home. The store has 33 types of apples to choose from—and it's full of a wide variety of fresh fruits and vegetables grown right here on the farm.
Apple Days Fall Harvest Festivals
For more apple fun, attend our Apple Day Fall Harvest Festivals at the Cold Soil Road farm, fall weekends from September 14 through October 27. Fun for all ages, the festivals feature wagon rides, our adventure barn, pony rides, a corn stalk maze, hay bale maze and more.
Farm Market Fall Hours
Farm Store – Daily 9 a.m.-6 p.m.
Wine Tasting Room – Fri-Sun, noon-6 p.m.
Find Terhune Orchards online
www.terhuneorchards.com
Facebook.com/terhuneorchards
Instagram @terhuneorchards
Twitter @TerhuneOrchards
Please tag posts #terhuneorchards