Enjoy 7 Weekends of Fun, Sept. 14 to Oct. 27, 10 a.m.- 5 p.m.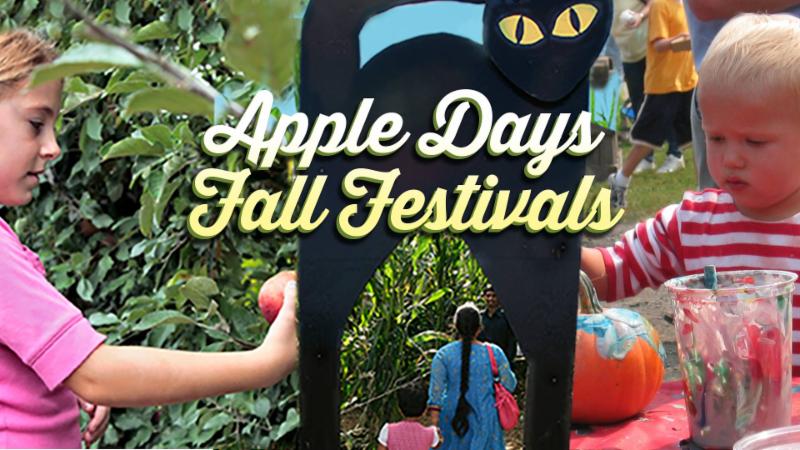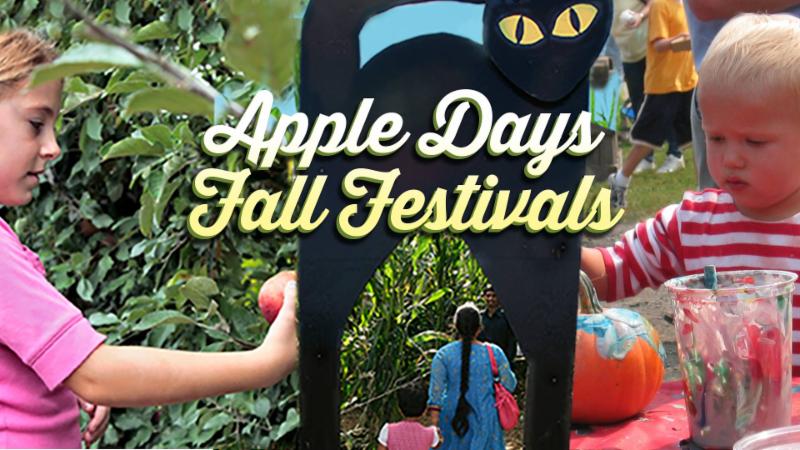 At Terhune Orchards, apples are our favorite! It's apples, apples, apples—all about apples here in the fall. We're celebrating with seven weeks of festivals! We invite you to visit our farm any weekend, September 14 to October 27, from 10 a.m. to 5 p.m. Our Apple Days Harvest Festivals are jam-packed with apples, pumpkins and tons of fall fun.
Visitors experience a full day of old-fashioned farm fun during our fall Apple Days Harvest Festivals. A tractor-pulled wagon ride around our preserved farmland is a must.  Sit and listen to or sing along with live music every weekend with a great roster of local bands. Find your way out of the cornstalk maze and hay bale maze.  Have fun in the barnyard with children's games and activities.  Get a true "taste" of the season with a cup of our freshly pressed apple cider and made-on-the-farm donuts.
Children have so much to do at Terhune Orchards during our festivals! Bring your little ones to enjoy scavenger hunts, pumpkin painting, pony rides, rubber duck races, and face painting. See their smiling faces when they visit the animals in our barnyard. Be sure to bring them to our one-of-a-kind Adventure Barn, full of interactive exhibits highlighting the Garden State.
Introducing Theme Weekends
Apple Days Harvest Festivals Music
We are pleased to present live music from talented local bands every Saturday and Sunday during our festival weekends:
Sept. 14           Daisy Jug Band
Sept. 15           Jimmie Lee
Sept. 21           Growing Old Disgracefully
Sept. 22           Stone Hearth
Sept. 28           June Apple
Sept. 29           Rootology
Oct. 5               Albo
Oct. 6               Reock and Roll
Oct. 12             Mountain Heritage
Oct. 13            Stony Brook Bluegrass
Oct. 14            Jay Smarr
Oct. 19            Goodbye Blue
Oct. 20           Raritan Valley Ramblers
Oct. 26           Borderline
Oct. 27           Heavy Traffic Bluegrass Band
All of this outdoor fun is sure to get you hungry. Stop by the Fall Food Tent for a delicious lunch. Hot dogs, BBQ chicken, pulled pork sandwiches, vegetarian chili, homemade soups, and other fare will be available. It wouldn't be Apple Days without our Apple Buffet. Options include apple cider donuts, apple pies, apple muffins, and much more.
Pick Your Own
At the festival, visit our Pick-Your-Own pumpkin patch to find just the right pumpkins to bring home. We have colorful pumpkins and gourds in all sizes. To pick your own apples, head to our 27-acre 13 Van Kirk Road orchard from 9 a.m. to 5 p.m. The orchard produces 13 types of apples during the season. All of the trees are dwarf varieties—the perfect picking height for visitors of all ages.
After a full day of activities, visit our winery tasting room to relax with a glass of our award-winning wine. Terhune Orchards Apple Wine, made from our own apple cider, is a seasonal favorite. Red, white and several fruit wines are also available for you to enjoy.
Before you head home, visit our farm store to continue your apple experience at home. The store has many varieties of apples to choose from, as well as our famous apple cider donuts, apple cider, and an array of apple treats. The store's bushels are brimming with fresh vegetables and herbs grown on the farm. Explore the seasonal display of colorful mums, pumpkins and decorations and pick up baked goods to bring home and remind you of your visit.
Admission to Apple Days Harvest Festivals is $10, ages 3 and up. Parking and access to the farm store and winery are free.
Farm Market Fall Hours
Farm Store – Daily 9 a.m.-6 p.m.
Wine Tasting Room – Fri-Sun, noon-6 p.m.
Find Terhune Orchards online
www.terhuneorchards.com
Facebook.com/terhuneorchards
Instagram @terhuneorchards
Twitter @TerhuneOrchards
Please tag posts #terhuneorchards