Everything is Peachy at Terhune Orchards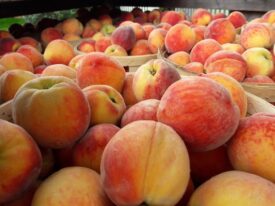 Nothing is better than a perfectly tree-ripened, delicious, juicy peach! Terhune Orchards has baskets overflowing with just-picked peaches ready for you to take home to create your favorite peach recipes.
Peaches have unique flavor, texture, personality, and timing. In about a week, we pick peaches three or four times from the same tree – at the moment of tree-ripened perfection. Waiting for those few extra days of "tree time" allows our peaches to be sweeter and juicier. Peaches love heat, so these summer days have led to a bounty of big, warm-from-the-sun, dripping-with-juice peaches at Terhune Orchards. Now is the perfect time for freestone peaches.
Take advantage of Pam's Canning & Freezing Class on Thursday August 13 at 10am.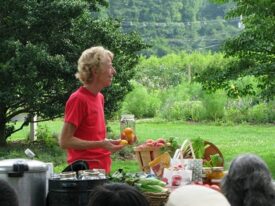 While we are at the height of peach season try your hand at canning peaches and making peach jam. Plan ahead for the winter and learn how to freeze Jersey fresh corn and summer vegetables. It is perfect way to use your time at home to put away some of our favorite summer fruits and vegetables to enjoy over the summer. Peaches and tomatoes are available at special half bushel prices.
In order to maintain social distancing for this in-person demonstration, space will be limited so pre-purchase your $10 tickets in advance at shop.terhuneorchards.com. We know how popular Pam is so we will livestream this event for those unable make it to the farm on Terhune Facebook page and share the video on our weekly email!
We continue to offer several shopping options for your convenience. Stop by to choose your peaches, freshly baked peach pie and old-fashioned peach cobbler in person, or order through our easy online portal www.terhuneorchards.com/shop for curbside pickup or delivery right to your home. Our trained staff follows safe handling and cleanliness procedures to ensure you receive quality items in the safest way possible. While you are at it, treat yourself and have a bottle of our Just Peachy wine or Sangria (perfect with fresh peaches) added to your order!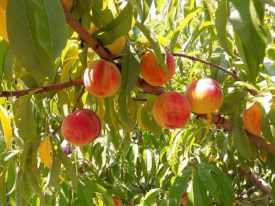 Terhune Orchards is here for you!
Farm Store: Mon-Thurs 9 a.m. – 6 p.m., Fri 9am-7pm, Sat. & Sun. 9 a.m. – 5 p.m.
Winery: Fri 12 p.m. – 8 p.m., Sat & Sun, 12 p.m. – 5 p.m.
Phone: 609-924-2310
www.terhuneorchards.com
Facebook.com/terhuneorchards
Instagram @terhuneorchards