Order Now!  Shipping Nationwide, Local Delivery and Farm Store Pick-Up
This holiday season, share the local flavors you love by giving gift boxes and baskets brimming with apples and fresh baked goods from Terhune Orchards, wines from Terhune Orchards Vineyard & Winery and delectable gourmet foods.  Among dozens of gift basket and gift box options, you'll find the perfect gift to delight any recipient and fit your budget. Our fresh and delicious samplers are perfect gifts for a family friend, business acquaintances, office staff or anyone that you want to feel a little extra special during the holidays.
The popular Taste of New Jersey boxes and baskets include gourmet food items made here in The Garden State. These fantastic edible gifts may include Jersey Fresh honey, organic popcorn, chocolates in addition to an assortment of apples and goodies from Terhune Orchards. Your family, friends and clients near and far will enjoy these unique, Jersey Fresh gifts.



Share this joyous season with the "Best of the Best" basket, a bountiful arrangement of crisp apples, holiday cookies, a large fruit bread, apple butter, cheese, crackers, chocolates, candies, a Terhune Orchards tote bag, mug and much more. The custom Wine Farm Basket includes your choice of a bottle of Terhune Orchards award winning, red, white or fruit wines, a colorful assortment of apples, sweet treats and a freshly baked loaf of fruit bread.
Gift boxes are carefully hand-packed to order and ship nationwide. We provide old fashioned, top-notch customer service by making local deliveries to homes and businesses in the Princeton and Lawrenceville area.
Gift items that include wine can be picked up at the store or shipped to addresses in New Jersey and Florida. All gift baskets and boxes can be pre-ordered and ready for pick up at the farm store to take with you to your holiday events. We can add wine to any order picked up at the farm.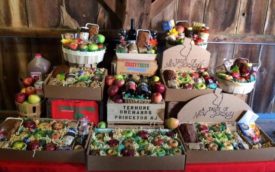 Terhune Orchards unique gifts are perfect for sharing a taste of New Jersey. View our gift basket and box selection in our online store at www.shop.terhuneorchards.com. Place your orders online, in the farm store or call (609) 924-2310.
Order now to arrive in time for the holidays!
The farm store is open daily 9 a.m. – 6 p.m.
The winery is open Friday- Sunday, 12:00 p.m. – 5 p.m.
Wine bottles available in farm store daily.
Find us online at terhuneorchards.com, on Facebook and Instagram.