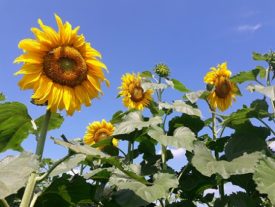 What a sweet summer delight! Our field of 1,000 sunflowers is in full bloom. Our sunflowers in all of their colorful glory are not to be missed. Visit Terhune Orchards this weekend, August 24 and 25, to wander through the rows of these yellow beauties. Bring your children to show them what nature produces, and bring your camera to snap lots of photos. Artists, bring your paints and brushes, because you're sure to be inspired by these happy flowers. Come early, stay late, and enjoy the sight. 
While you're here, pick your own fresh, juicy peaches and crisp apples. Gala and Honey Crisp are now ready at the home farm on Cold Soil Road! You can also take a walk on our Farm Trail to experience nature at your leisure. 
Stop by our winery tasting room to relax with a glass of our award-winning wine. Just Peachy and Apple Wine, made from our own apple cider, are popular options. Red, white and several fruit wines are also available for you to enjoy.  
Be sure to visit our farm store, full of fresh organic fruits and vegetables grown here on the farm. Pick up our famous apple cider donuts and other homemade baked goods to enjoy at home. 
The farm store is open daily, 9 a.m. – 6 p.m. The winery is open Friday – 12 p.m. – 8 p.m.; Saturday and Sunday, 12 p.m. – 6 p.m. 
Find Terhune Orchards online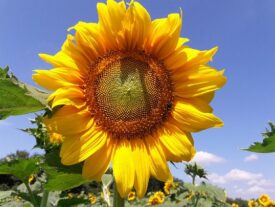 www.terhuneorchards.com
Facebook.com/terhuneorchards
Instagram @terhuneorchards
Twitter @TerhuneOrchards
Please tag posts #terhuneorchards
Terhune Orchards is located at 330 Cold Soil Rd., Princeton, NJ 08540