What says "back-to-school" better than an apple? Pack a fresh apple in your child's lunchbox to start the school year right. Visit Terhune Orchards for a wide variety of crisp, fall apples. Pick Your Own Apples is open every day starting August 31, from 9 a.m. to 5 p.m., weather permitting.
All of the trees in our Pick-Your-Own orchard are dwarf varieties, so even the littlest visitors can easily pick from them. Thirteen varieties of apples are available for picking throughout the season. Early season varieties are Gala and Honeycrisp. Call the farm store at (609) 924-2310 to find out which varieties are available on the day you plan to visit. Pick-your-own apples are sold by the pound. There is no admission fee.
Apples are the perfect lunchbox or afterschool snack. A medium apple has approximately 95 calories, is fat-, sodium- and cholesterol-free, and is an excellent source of fiber. Make homemade applesauce for a treat your children will enjoy—without the unnecessary sugar. (See our recipe below). At the Terhune Orchards farm market, we have 33 varieties of apples throughout the fall! Bring home freshly picked Honeycrisp, Gala, McIntosh, Staymen-Winesap, Empire, and Crimson Crisp, among others. Children who visit the store can get a kid's apple for free!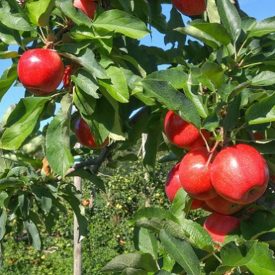 Bring Your Little Ones or Students to Our Educational Programs
We are proud to offer a variety of educational programs that teach children of all ages and abilities the importance of farming and the environment. We host school tours, where children learn about farm operations, interact with animals, participate in hands-on activities, and more. Our Read and Pick program, described below, offers educational fun to the little ones.
In the fall of 2018, Terhune Orchards was awarded the first annual Farm-to-School Farmer Recognition Award by the New Jersey Secretary of Agriculture in recognition of our contributions to educating children through the years. We continue to educate all of the future farmers and environmentalists!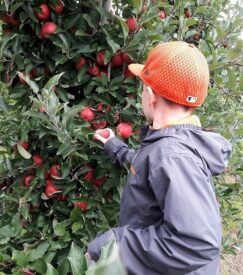 Read & Pick Program
Read & Pick is an innovative educational program for children ages preschool to 8 years. At each session, we read two stories, and the children pick a container of fruit or do a hands-on activity. Each program costs $8 per participating child and lasts about one hour. Children must be accompanied by an adult. Please call (609) 924-2310 to register.
Sept. 10 – Read & Pick: Chickens, 9:30 a.m. and 11 a.m.
Sept. 24 – Read & Pick: Tractors, 9:30 a.m. and 11 a.m.
Oct. 1 – Read & Pick: Pumpkins, 9:30 a.m. and 11 a.m.
While visiting the farm this fall, children will interact with the barnyard animals, explore the cornstalk and hay bale mazes, find our scarecrows, and snack on our freshly pressed apple cider and an apple. If the cider press is in operation during your visit, it's a must see!
Guided tours for schools and groups of all ages are available throughout the fall. All material is presented in an age-appropriate manner. Groups can complete their visit by picking apples or pumpkins for an additional fee. Call ahead to discuss your needs and schedule a tour at (609) 924-2310.
It's time for learning, so use our handy guide to learn about several varieties of apples. All of these apples make an excellent after-school snack.
Empire – This juicy apple is a cross between a McIntosh and a Red Delicious.
Gala – Mild sweet, juicy flavor. Bright yellow-red color, crisp. Enjoy fresh and in desserts.
Ginger Gold – Sweet but mildly tart. Fine texture; crisp cream-colored flesh. Enjoy fresh or use for pies.
Honeycrisp – Juicy, honey-sweet flavor with a touch of tart. Very crisp; yellow flesh. Enjoy fresh, and in applesauce and desserts.
McIntosh – Medium-sized, thick-skinned, peels easily. This tender apple cooks quickly and is highly aromatic.
Farm Hours – September Hours
Farm Store – Daily, 9 a.m.-6 p.m.
Pick your Own at Van Kirk Rd. Orchard, 9 a.m.-5 p.m.
Winery –Fri., Sat & Sun, 12-6 p.m.
Find Terhune Orchards online
www.terhuneorchards.com
Facebook.com/terhuneorchards
Instagram @terhuneorchards
Twitter @TerhuneOrchards
Please tag posts #terhuneorchards
Terhune Orchards' Homemade Applesauce Recipe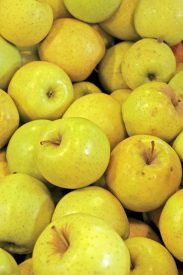 Ingredients:
12 large apples
Terhune Orchards apple cider
Directions:
Core and quarter 12 large apples. Any kind of Terhune Orchards' apples make wonderful applesauce. You do not need to peel the apples. Cooking them with the skins on adds more trace vitamins to your applesauce. Place apples in a deep saucepan. Add enough cider to cover the bottom of the pan 1" or so. Cover the pan with a lid. Cook over medium heat until the apples are soft. Put the softened apples through a food mill or sieve. If you don't have either, peel the apples before cooking and stir them vigorously once they are soft. If your sauce seems too watery, cook it down a bit. If it is too thick, add more cider. If you like, add a bit of ground cinnamon. This should make 2 quarts of delicious applesauce.