All of Your Thanksgiving Needs & Pies at Terhune Orchards
Get all of your Thanksgiving needs at Terhune Orchards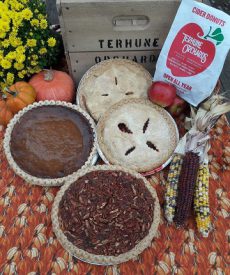 From the appetizers to dessert course, Terhune Orchards has all the local, fresh and delicious trimmings for your holiday meals and entertaining.  Make your family's favorite side dishes with our hearty winter greens, Brussels sprouts, apples, winter squash, and more fresh from our fields and orchards. Our fresh cranberry relish and cranberry salsa, apple sauce and apple salsa, tomato salsas and guacamole make great starters and farm fresh additions during all of your fall and winter entertaining.  Our freshly pressed apple cider is excellent served hot or cold.
Visit the recipe page for some of the Mount family's favorite holiday side dish recipes including cider scalloped potatoes, turkey stuffing supreme with sausage and apples and butternut squash and apple soup. Everything you need to make your Thanksgiving fresh, local and delicious can be found here at the farm.
Terhune Orchards is taking orders for Thanksgiving pies. We have more than 20 varieties of pies and crisps, including an assortment of apple pies, blueberry, coconut custard, cherry, peach, strawberry rhubarb, pecan, mince and pumpkin pie, of course. We always have a wide assortment of pies at the farm store to choose from throughout the holiday week, but recommend preordering to guarantee that you get exactly what you want. Please call 609-924-2310.
For those attending Thanksgiving feasts as guests, bring along pie from Terhune Orchards. Choose from over 20 flavors of freshly baked pies and crisps. Other desserts to bring your host include our tea breads and cookie platters. They are the perfect thank you gift that your host can put out with the dessert course or enjoy the morning after the big day. Hosts always welcome a bottle of wine. Terhune Orchards Vineyard and Winery has white, red and fruit wines made from estate grown grapes and our own apple cider. A gift basket brimming with fruit, baked goods and other goodies from Terhune Orchards will definitely be a hit, too.


Special hours for holiday shopping
The Terhune Orchards farm store will be open late on Tues., Nov. 26 and Wed., Nov. 27 from 9 a.m. – 7 p.m. On Thanksgiving Day, Nov. 28, the farm store will be open 9 a.m. – 12 p.m. for last minute shopping. The winery tasting room will be open 12 p.m. – 6 p.m. on Tues., Nov. 26 and Wed., Nov. 27 and our stand at the Trenton Farmers Market will be open Tues. Nov 26 and Wed. Nov 27 from 9am-4:30 pm.
Terhune Orchards is located at 330 Cold Soil Rd., Princeton, NJ.
The farm store is open daily, 9 a.m. – 6 p.m.  (see special holiday hours above)
The winery is open Friday- Sunday 12:00 p.m. – 5 p.m.
Bottles available in farm store daily.
Our stand at the Trenton Farmers Market, 960 Spruce Street, Lawrence Township, is open Thursdays – Saturdays 9 a.m. – 6 p.m.
Find Terhune Orchards online at terhuneorchards.com, on Facebook and Instagram.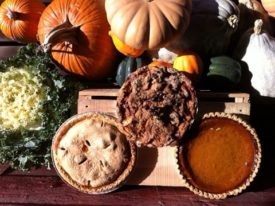 Terhune Orchards' Thanksgiving Stuffing with Apples
Ingredients:
½ lb. sweet sausage
1 cup diced celery
1 cup minced onion
½ cup Terhune Orchards apple cider
5 large Stayman Winesap apples, peeled, cored, diced
9 cups of bread, cut in cubes
2 Tbsp. fresh parsley, chopped
¼ tsp. freshly cracked black pepper
1 tsp. kosher salt
1 tsp. poultry seasoning
¼ tsp fresh thyme
Directions:
Remove the sausage skin. Crumble it into pieces and brown over medium-high heat in a large skillet. Add the celery and onions. Cook for about 10 minutes until the vegetables soften. Add the bread cubes, apples and spices. Moisten with the apple cider and mix well.
Loosely stuff the cavity of the turkey with the stuffing. Roast your turkey according to time needed for the size bird you have.
This stuffing can also be made in a 9 x 13 casserole dish. Bake in a 350 degree oven for 30-40 minutes until brown on top.